Description
Blackwing Starting Point Set
The Starting Point Set is the perfect way to introduce the artist or maker on your list to the world of Blackwing. This gift set includes 4 Blackwing pencils with a range of Soft, Balanced, Firm and Extra-firm graphite, 1 pack of Black Replacement Erasers to ensure your pencil is always functional and a One-Step Long Point Sharpener that creates a long, curved point that resists breakage.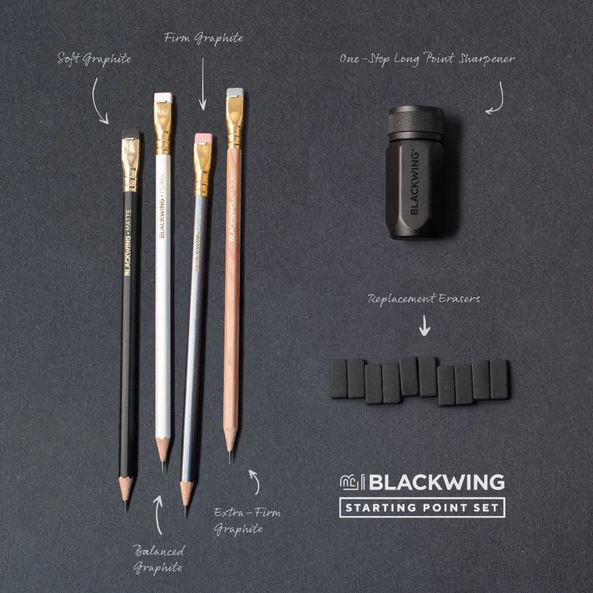 Claimed by many to be the best writing utensil in the world, Blackwing pencils are famous for the quality of graphite, iconic shape, and the people whose works they've inspired throughout the years.
Blackwing pencils use high quality graphite produced exclusively in Japan. In general, Palomino graphite pencils are smoother than more commonly available pencils due to the special formulation and processing methods used. Japanese consumers also prefer a darker and softer laydown so Japanese-produced leads tend to be softer and darker. This leads to differences of 1 to 2 degrees compared to other pencils.
Pencil cores are rated on a scale corresponding to the hardness or softness of the graphite. A harder pencil core will make a lighter mark on paper, while a softer core deposits more graphite on paper and, thus, leaves a darker mark. Softer pencils will dull more quickly than harder leads and require more frequent sharpening.
For more information about how pencils cores are graded, click here. Blackwing pencils are made out of 100% Genuine Incense-cedar wood which sharpens quickly and evenly, giving the pencil a smooth, sharp point (and it smells great too!).
Pencil details:
The Blackwing Black pencil features a matte black finish, gold imprint, black eraser, and soft, smooth graphite perfect for artists. (approx. 4B) Ideal for anyone who prefers a soft, dark line, the Matte Black is the softest of the Blackwing models. Blackwing Black Matte pencils come in a box of 12 that can double as a pencil cup.

The Blackwing 602 features a grey finish, gold imprint, pink eraser, and firm, smooth graphite core for writers. Praised in the New Yorker and The Boston Globe, the Blackwing602 delivers "Half the Pressure, Twice the Speed." (approx. B hardness) Blackwing602 pencils feature a gunmetal grey finish and square ferrule with a pink eraser. Blackwing 602 pencils come in a box of 12.

A favorite of calligraphers, the Blackwing Pearl includes a balanced, smooth graphite that's softer than the Blackwing602, but firmer than the Blackwing Matte. Each pencil features a pearl white finish, square ferrule and white eraser. (approx. 3B) Comes in a 12-pack gift box that doubles as a pencil cup.
The Blackwing Natural pencil contains a popular extra-firm graphite that works well for extended writing and detailed line work. (approx. HB) Each pencil features an exposed Incense-cedar barrel with a clear matte finish, square ferrule and grey eraser. Blackwing Natural pencils come in a 12-pack gift box that doubles as a pencil cup.