Description
Palomino Blackwing Pencils Box of 12
All Palomino Blackwing pencils use high quality graphite leads produced exclusively in Japan. In general, Palomino graphite pencils are much smoother than more commonly available pencils due to the special formulation and processing methods used in the manufacturing process. Japanese consumers also prefer a darker and softer laydown so all Japanese-produced leads tend to be a bit softer and darker along the HB grading scale. This results in differences of up 1 to 2 degrees versus what you might be used to in other pencils.
Pencil cores are rated on a scale that corresponds to the hardness or softness of the graphite. A harder pencil core will make a lighter mark on paper, while a softer core deposits more graphite material on the paper and, thus, leaves a darker mark. Softer pencils will dull more quickly than harder leads and require more frequent sharpening. To find more information about how pencils cores are graded, click here. Blackwing pencils are made from 100% Genuine Incense-cedar wood. Genuine Incense-cedar sharpens quickly and evenly, giving the pencil a smooth, sharp point (and it smells great too!).
Blackwing Matte Black
The Blackwing Matte Black pencil features a matte black finish, gold imprint, black eraser, and soft and smooth graphite core that is perfect for artists and musicians. (approx. 4B) Ideal for musicians, woodworkers and anyone who prefers a soft, dark line, the Palomino Blackwing is the softest of the four core models. Blackwing Black Matte pencils come in a box of 12 that can double as a pencil cup.
Blackwing602

The Blackwing 602 pencil features a grey finish, gold imprint, pink eraser, and firm, smooth graphite for writers. Praised in the New Yorker, the Blackwing602 features firm, smooth graphite that delivers "Half the Pressure, Twice the Speed." (approx. B hardness) Blackwing602 pencils feature a gunmetal grey finish and iconic square ferrule with a pink eraser. Blackwing602 pencils come in a box of 12.
Blackwing Pearl

A favorite of calligraphers, the Blackwing Pearl pencil has a balanced, smooth graphite that's softer than the Blackwing602, but firmer than the Blackwing Matte. Each pencil features a classic pearl white finish, iconic square ferrule and white eraser. (approx. 3B) Comes in a 12-pack gift box that doubles as a pencil cup.
Blackwing Natural
The Blackwing Natural pencil contains a popular extra-firm graphite that works well for extended writing and detailed line work. (approx. HB) Each pencil features an exposed Incense-cedar barrel with a clear matte finish, iconic square ferrule and grey eraser. Blackwing Natural pencils come in a 12-pack gift box that doubles as a pencil cup.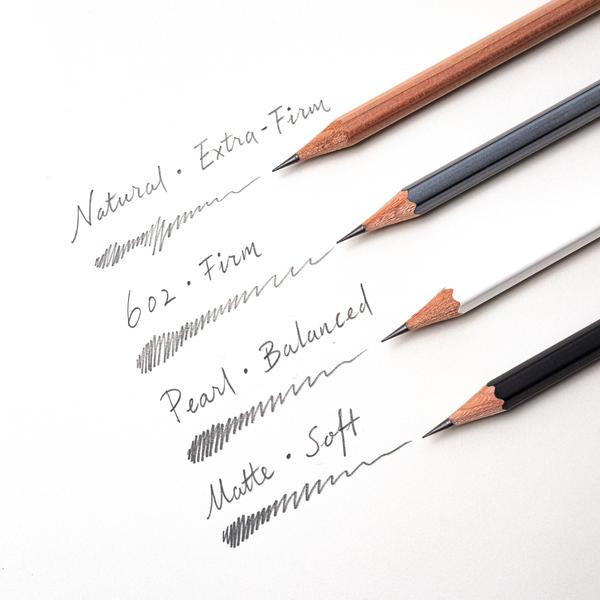 More from Blackwing:
The Palomino-KUM long point pencil sharpener uses a unique two-step pencil sharpening process.
The Blackwing Point Guard is designed to ensure your pencil gets wherever you're going in one piece.
Replacement erasers for the Palomino Blackwing. Packs of 10 available in several colours.
A special gift set is available here.
About:
Some of the world's most legendary Grammy, Emmy, Pulitzer and Academy Award winners have created with Blackwing pencils. The list of known users includes John Steinbeck, Stephen Sondheim, Leonard Bernstein and Chuck Jones, who proudly used Blackwings to create Bugs Bunny and countless other Looney Tunes characters.
Its roots go back to the 1930's when it was first introduced by Eberhard Faber. In 1998, after several corporate acquisitions, it was discontinued, but not forgotten. In fact, fans began paying as much as $40 on eBay for a single Blackwing pencil.
Artists from across the world soon noticed that Palomino's range of premium pencils provided a comparable performance to the Blackwings and asked them to consider reviving the iconic brand. Palomino founder and CEO Charles Berolzheimer, whose family's roots in the pencil industry date back to the mid 19th century, used his unique supply relationships to re-introduce the Blackwing pencil, both in its original form (the "602") for devotees, writers and everyday users, as well as a modified version with a slightly softer lead for artists.
Claimed by many to be the best writing utensil in the world, these pencils are famous for the quality of graphite, iconic shape, and the people whose works they've inspired throughout the years.