Get ready to explore some ideas for acrylic painting projects to use in classrooms or for beginners.
Acrylic colours are quick-drying paints based on 100% acrylic resin (a synthetic dispersion). When applying acrylic paints thinly and/or thinned with water, a watercolour effect can be obtained. Usually, however, acrylics are applied thickly and the result appears like that of oil colours. Many artists prefer acrylics because they dry much quicker than oils and are practically odourless. Click here for Top 10 Frequently Asked Questions About Acrylics 
When you are ready you can click here: to order Amsterdam Acrylic Colours

10 Step-by-Step Acrylic Painting Projects for the Classroom
Below are the step-by-step plans for acrylic painting. Click on the image to see and download the project PDF.
1. VIDEO Paint a Canal View with Acrylic Painting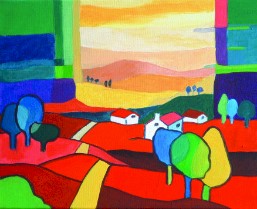 2. ABSTRACT LANDSCAPE Step-by-step plan for acrylics.

3. TROPICAL FISH Step-by-step plan for acrylics.

4. BLUE VASES Step-by-step plan for acrylic colours.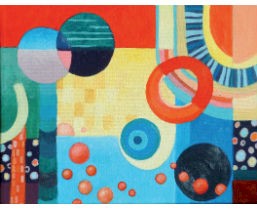 5. ACRYLIC ABSTRACT Step-by-plan for acrylic colours.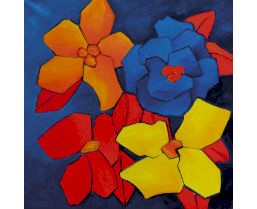 6. SUMMER FLOWERS Step-by-step plan for acrylics.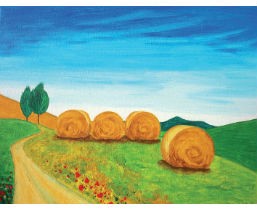 7. SUMMER LANDSCAPE Step-by-step acrylic project.
8. SAND MOSAIC Step-by-Step plan for textured acrylic abstract
9. ALBERTA FALL LANDSCAPE Step-by-Step plan for acrylic colours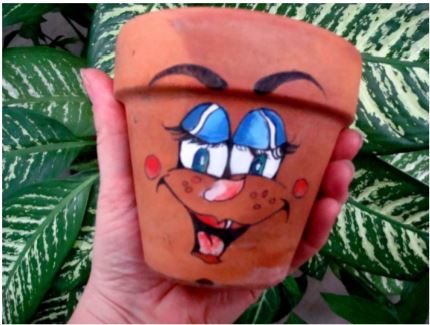 10. PAINTING ON CLAY POTS – Step-by-Step plan for acrylics