Gouache is similar to watercolour.
Like watercolour paint, gouache is a water-based medium. Watercolour paint is generally transparent and can be lightened by dilution, which allows more of the white paper to be seen underneath. Gouache's opaque nature means it dries to a matte finish and obscures the layers below. This characteristic also allows gouache to be used on coloured papers and boards with great effect while allowing layers to be built from dark to light.
Watercolour requires an intensity of colour and level of transparency to achieve effects such as glazing.  In comparison, gouache is a medium where dense, opaque layers are desired.  
Here's a quick videos. We are using Stoneground Gouache (Made in Canada)
Gouache Projects for Schools and beginning artists
Below are the step-by-step plans for gouache. This step-by-step projects use the most economical Goauche we stock Talen's Art Creations. Click the image to view and download a PDF.
CAKE Step-by-step plan for gouache.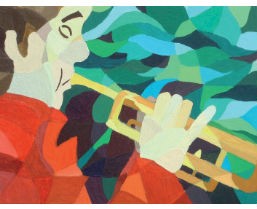 MUSICIAN WITH TRUMPET Step-by-step plan for gouache.
TREES Step-by-step plan for gouache.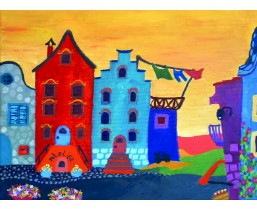 COLOURFUL HOUSES  Step-by-step plan for gouache.
What is Matte vs Gloss?
Gouache is a matte colour. What does that mean to a painter and how can an artist use to great effect? Watch this video to learn more.
What is Opaque vs Transparent?
Gouche is opaque. What does opacity and transparency mean to an artist? How can we use it to our advantage. Watch this video to see several effects for see-through and non-see-through colours.
For more information on working with Gouache read our next post 10 Reasons to Love Gouache .
What does Student Quality vs Artist Quality Mean?
The Paint Spot stocks many different types of Gouache and they all have different price points. This video will help you understand the differences between school paints, designers paints and artist quality materials.