Nicole Galellis' Suspended Spaces at the Naess Gallery at The Paint Spot 10032 81 Avenue from August 22 – October 3, 2022.
Artist's Statement 2022
My abstract paintings bring to mind a variety of histories and sources. They reference the history of abstraction, but also embrace elements from my everyday surroundings: graffiti, ornament, tattoos, illustrations, and nature. I distort and layer these sources, creating abstractions that are more evocative than descriptive, moving in many directions simultaneously. By incorporating bright colours and layering lively brushstrokes, the paintings assert feelings of vitality and optimism. These paintings come out of a practice of creating time for stillness and reflection. They are essential for exploring creativity and developing a steady breath/hand to make these brushstrokes.
Thank you to the Paint Spot for the opportunity to exhibit this work. I continue to be inspired by Kim's advocacy for cultivating creativity and showcasing local talent in our community.
(Suspended Spaces was at the Naess Gallery at The Paint Spot 10032 81 Avenue from August 22 – October 3, 2022.)

Nicole Galellis: Bio
Nicole Galellis received her Bachelor of Fine Arts at the Nova Scotia College of Art and Design in 2002 and a Bachelor of Education from the University of Alberta in 2011. Since graduating, she has participated in artist residencies in Banff, Grand Prairie and Taipei, Taiwan. She taught art at the Art Gallery of Alberta, Harcourt House Artist Run Centre, the Nina Haggerty Centre for the Arts, and is currently a high school teacher. Her work is featured in private and public collections including the Alberta Foundation for the Arts, the Lois Hole Hospital, and Borden Park Pavilion, Edmonton.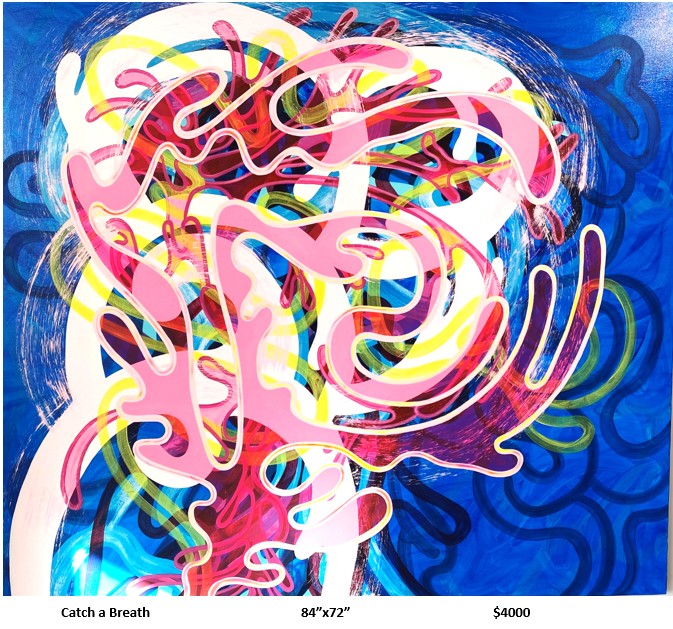 ---
Naess Gallery
10032 81 Avenue | Phone: 780 432 0240 | Email: accounts (at) paintspot.ca
Named for Sidsel Naess Bradley, The Paint Spot's founder. who recognized the need for spaces that promote the exploration of artistic ideas and innovative processes. We are extremely proud of this heritage and its contribution to the development of many artists. Naess Gallery continues to be inclusive, encouraging dialogue among artists and visitors. We welcome proposals for exhibitions that push materials, techniques, subject matter, and conceptions.
In planning the Exhibition Year, we will be inviting artists whose practices we admire to exhibit their new works. It will be a year to revisit artists who have shown in the Naess Gallery in the past and to reveal new artists as well. We are going to see an exciting and enriching program of shows! If you have questions about the Naess Gallery or its exhibition program, please ask Kim Fjordbotten phone 780 432 0240.
See what's new at the Naess Gallery, or be inspired by past artist talks.
Previous Exhibition – Craig Talbot