The Craig Talbot, A Flock of Birds exhibition runs May 26 – July 5, 2022 at the Naess Gallery at The Paint Spot.
Exhibition runs May 26 – July 5, 2022
---
Craig Talbot – Artist Statement
Instinct, raw emotion, honesty and courage are some of the themes that weave their way through my work. My paintings are always a reflection of my life. I believe it is the duty of an artist to tell the truth, which I do in a flurry of paint and washes left to drip down the canvas, combined with bold solid brushstrokes and elaborate patterns. I wish to express myself by using bright colours, text, collage and both realistic and sculptural elements in my work.
Recent works
More recently I have been inspired in my life and in my work by the fact that I suffer from chronic pain. I find inspiration in the strength and courage it takes to go on with another day of pain. I also developed a sense of spirituality from the experience. These occurrences brought a true purpose to my work. Like a quest or a mission, I vowed I would not let pain and other ailments affect me negatively any longer.
My work is often a reflection of the past as well. Good and bad. Art helps me keep a balance when I get lost in negative feelings from the past. It keeps me grounded. But many of the things from that time are things that make me happy. These things are music, album covers, skateboard graphics and comic books. Currently I am influenced by the neo-surrealist artwork happening in Los Angeles and the pop art of Tokyo.
Although an abstract painter, I am heavily influenced by hyper-realistic art. I often use realistic elements in my paintings, usually still life.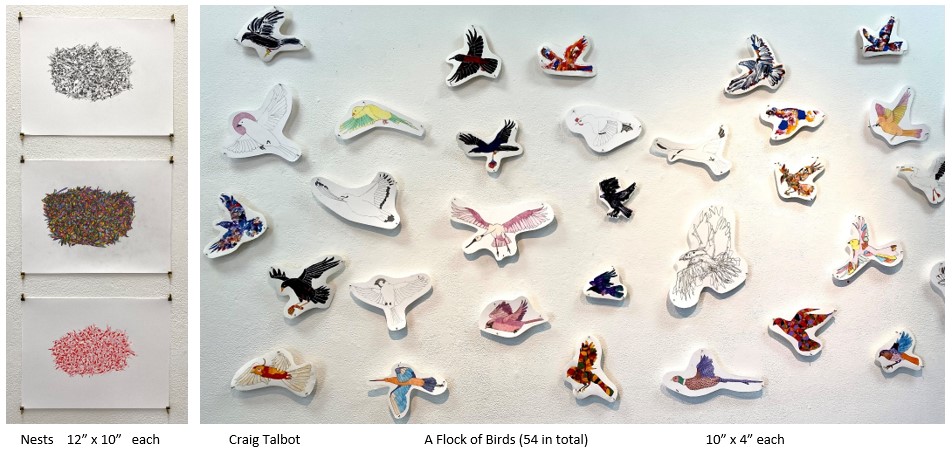 Art reveals to me what I need to know about myself, and that is how I find my truth.
Presently I am making realistic drawings and abstract paintings I try to push the boundaries between the limits of a canvas and the walls of the gallery itself. I also create paintings that are based on repetitive shapes, often dots or circle. Finally, I like to create narratives about the work as a serious but lighthearted expression of life as it occurs. Ultimately my work is a self portrait of sorts.
You can follow Craig on Instagram @desertsabbatical
---
Naess Gallery
10032 81 Avenue | Phone: 780 432 0240 | Email: accounts (at) paintspot.ca
Named for Sidsel Naess Bradley, The Paint Spot's founder. who recognized the need for spaces that promote the exploration of artistic ideas and innovative processes. We are extremely proud of this heritage and its contribution to the development of many artists. Naess Gallery continues to be inclusive, encouraging dialogue among artists and visitors. We welcome proposals for exhibitions that push materials, techniques, subject matter, and conceptions.
In planning the Exhibition Year, we will be inviting artists whose practices we admire to exhibit their new works. It will be a year to revisit artists who have shown in the Naess Gallery in the past and to reveal new artists as well. We are going to see an exciting and enriching program of shows! If you have questions about the Naess Gallery or its exhibition program, please ask Kim Fjordbotten phone 780 432 0240.
See what's new at the Naess Gallery, or be inspired by past artist talks.