Artelier Studios New Location at 10045 81 Ave (in the back alley)
Artelier Studios has a NEW LOCATION for art classes by The Paint Spot and it's located right across the street. Access the main entrance from the back parking lot. Please see the map below and instructions for parking at Artelier Studios.
Artelier Studios by The Paint Spot has a new space for art classes. The name is a playful combination of the word art and the French word for workshop, atelier.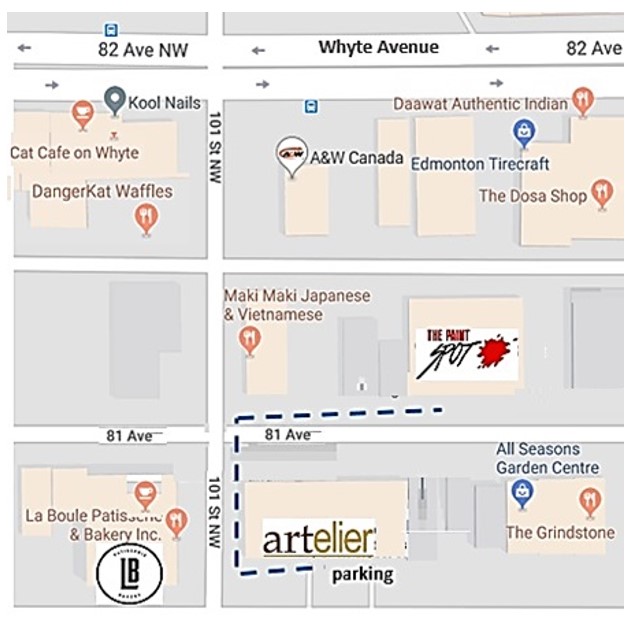 Please see the parking map for Artelier Studios
We're fortunate to have access to a lot of free parking on weekends and evenings. There are 23 free parking spaces available at Artelier Studios.
Registration is available online
View all art classes at Artelier Studios
The Paint Spot, an Edmonton-owned fine art materials shop, has provided support for Northern Alberta's visual artists since 1985. The internet and social media may provide ample inspiration but where do you go when you want to get started? "Don't have space to make art? Well, we do! You're invited to make time for art. Surround yourself with great teachers and like-minded creatives. It can get you off to a great start. Try something new or learn a different technique to take your art to the next level," says owner Kim Fjordbotten.
The shop has been offering workshops for over 28 years and they have outgrown their current space. "This was a pleasant surprise," says shop owner Kim Fjordbotten. "When we moved into our new location, just ten years ago, we thought creating a dedicated room for art classes was a luxury. We were concerned the space might remain unused for most of the time. Then suddenly we had so much interest, so many great teachers, and not enough time slots."
It is never too late to start art; your talent waits for you.
Fjordbotten points to converging art trends driving interest in art classes. The art materials industry is blossoming with products for artists seeking novelty or new tools, but artists are also interested in traditional handmade methods and materials. "It is wonderful to see young artists wanting to learn technical figure drawing and how to paint like the Old Masters. We embrace this diversity. It is exciting for us," Fjordbotten says. To meet the demand from vendors and customers, the shop owner hopes to run several classes per week and offer more daytime programs. She is looking forward to night classes running independent of store hours.
There are many paths to becoming an artist. "We carefully match the student to a medium, subject matter, and the instructor most appropriate for them" says Fjordbotten. Class sizes are small and beginners are especially welcome. Youth between the ages of 12 and 17 are invited to attend regular adult classes. Artelier is also available to artists and art groups pursuing their own creative practices; for example, some evenings offer access to encaustic or printmaking equipment.