Description
Stoneground Pearlescent Watercolor Sets
Stoneground Pearlescent Watercolour can be used for a variety of creative projects including watercolour painting, hand lettering, flourishing, embellishments, as well as calligraphy. These colours mix well with other Stoneground watercolours, are non-toxic, and lightfast, as well as permanent. Stoneground's pearlescent watercolours are ideal for adding special effects to traditional watercolour paintings, for hand-lettering or calligraphy applications, and for illustration work. These thematic pearlescent watercolor sets give you a well rounded selection of pearlescent colors.
Try using pearlescent watercolours on black paper for added drama. Pearlescent watercolours are perfect for adding shimmer and shine to any project, and are permanent, lightfast, and non-toxic. They will mix well with other watercolour paints, adding a touch of glamour and fun to your watercolours. You can also find Stoneground Pearlescent watercolors individually here.
Sets:
Stoneground's Pearlescent Palette #1 includes. Sunny Yellow, Rowan Berry, Ruby Tuesday, Vienna Violet, Hudson Bay Blue as well as Ivy Green.
Stoneground's Pearlescent Palette #2 (Confetti) includes. Prairie Gold, Citrus Orange, Flamingo Pink, Grey Jay, and Jewel Turquoise as well as Shamrock Green.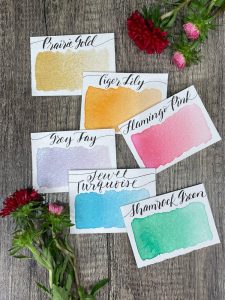 Stoneground's Small Galaxy Palette is perfect for any watercolour project and includes. Prairie Gold, Flamingo Pink, Smoky Plum, Aviator Blue, Raven Black as well as Pearl.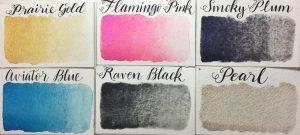 Looking for a larger set? Find the Stoneground Large Pearlescent Watercolour set here.
Stoneground watercolour paints are made by hand in Canada from the finest pigments available. Each pigment is bound within a unique combination of the highest grade gum arabic, as well as locally sourced organic honey. Stoneground's watercolour paints are ground by hand, and are made in small batches. There are no fillers in the paint in order to keep it as pure as possible.