Description
Stoneground Calligraphy Palette
Stoneground's Calligraphy Watercolor Palette is the ideal companion for anyone who loves hand lettering and calligraphy. These classic colours are perfect for a multitude of projects including watercolour painting, hand lettering, adding flourishes, and for embellishing.
The Stoneground Calligraphy Palette contains six half pans of our handmade watercolour paint in a hinged metal tin. Measuring approximately 2 1/2" x 2", this compact size is ideal for travel and plein air painting.
Colours Included: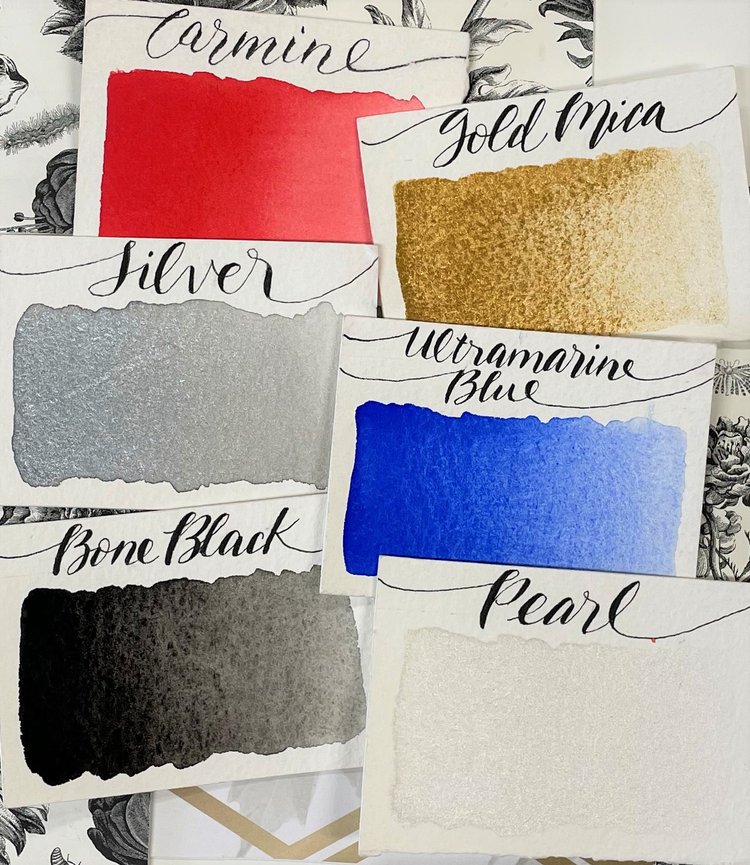 About The Colours:
A vivid, deep blue, Ultramarine is an invaluable choice for any artist's palette and can be used in everything from illustration, to botanicals, and florals, as well as landscapes. Ultramarine Blue is arguably one of the most versatile and popular blues available.
Carmine is a very staining, intense primary red useful in a variety of watercolour applications. Incredibly versatile, Carmine mixes well with other colours, and is an excellent non-toxic alternative to Cadmium Reds. While similar in appearance to Pyrrole Red, Carmine is more intense and opaque when used at full strength.
An intense deep black, Bone Black has an even tone and is perfect for a variety of watercolour applications including glazing. Use this colour full strength for hand-lettering and calligraphy projects, for dramatic backgrounds, grey-scale works, architectural studies, and for interesting line compositions.