Description
Schmincke Akademie Slim Watercolour Set
This Schmincke Akademie Slim Watercolour Set features a long, slim metal tin with one row of half pans of Schmincke Akademie Aquarell colors. For on the go: The slimmest of all Schmincke watercolour boxes contains 12 half pans of AKADEMIE watercolour in selected colours to fit in almost any small pocket. This makes it perfect for travel and plein air sketching.
Slim Metal Box Set with 12 x 1/2 pans:
Colours:
Opaque white, Cadmium yellow hue, Cadmium red hue, Magenta, Ultramarine, Cyan, Brilliant green, Permanent green, Yellow ochre, English red, Burnt umber, and Black.
Product # 75 769 097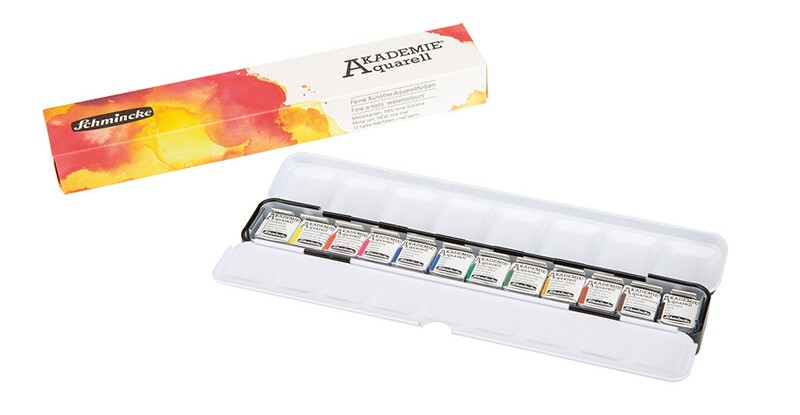 Features:
Liquid poured watercolours with high lightfastness in half pans.
Highly concentrated Artists' pigments
Fully reusable colours, even when dried on a palette
Good control of paint flow
The Schmincke AKADEMIE Aquarell range includes colours designed for students and artists, with highly concentrated watercolours, with mostly 4 and 5 star lightfastness. High quality artists pigments and an optimum binder (natural gum arabic) guarantee brilliant mixtures and good lifting, even on softer watercolour paper.
Schmincke AKADEMIE Aquarell colours may be combined with Schmincke HORADAM watercolours, as well as all Schmincke AQUA mediums.