Description
Studio Designs Artograph Featherweight LightPad
Super thin, super light, and super bright, the ultra-thin Artograph Featherweight LightPad from Studio Designs is the perfect lightweight, portable lightbox. Artograph Featherweight light pads offer a dimmable light that varies from 500 to 7500 lux. Easily adjust the brightness for your eyes as well as the thickness of the paper. Use it to trace or transfer an image for patterns, tattoo design, illustrations, animation, diamond painting, sewing, and quilting, as well as embroidery. The durable lighted area illuminates evenly with inch and centimeter markers. The energy efficient, bright LED lights last up to 25,000 hours. Also, a soft protective sleeve is provided for storage.
Available in 2 sizes:
12" wide x 9" deep lighted area.
17" wide x 12" deep lighted area.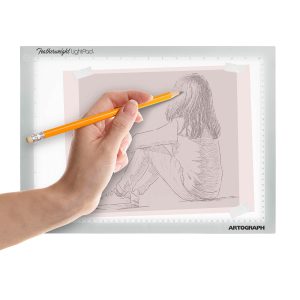 Find other Artograph products here.
Check out Artograph's Tips for using Light Pads here.
Specs:
Featherweight LightPad 12″ x 9″- Item # 25830
Dimensions: 14″ W x 10.5″ D x 0.25″ H
Light Area: 12″ W x 9″ D
Provides a Perfectly Even Illuminated Surface
Super Bright LEDs Last up to 25,000 Hours
Variable Brightness 500 to 7,500 Lux
Color Temperature: 6000–7000K cool white
Durable and Attractive Silver Frame
Inch and Centimeter Markers
Ultra Thin and Extremely Lightweight
Double Layered Firm Work Surface
Low Voltage, Power Saving AC Adapter
Includes Custom Protective Storage Sleeve
Featherweight LightPad 17″ x 12″- Item # 25832
Dimensions: 18.5″ W x 13.5″ D x 0.25″ H
Light Area: 17″ W x 12″ D
Provides a Perfectly Even Illuminated Surface
Super Bright LEDs Last up to 25,000 Hours
Variable Brightness 500 to 7,500 Lux
Color Temperature: 6000–7000K cool white
Durable and Attractive Silver Frame
Inch and Centimeter Markers
Ultra Thin and Extremely Lightweight
Double Layered Firm Work Surface
Low Voltage, Power Saving AC Adapter
Includes Custom Protective Storage Sleeve