Are you curious about where you can show your art?
First, know that you do not need to sell art to have an art show. Some works of art are meant to stay with the artist forever. Pivotal works, memorial pieces, or favourite pieces can be kept by the artist. But how much art can we keep? When do we cull our stuff? Since many of us have small working spaces, an art show might be the first time we get to see our art displayed all together with different lighting. It can be a reward to see your art hung together in a new light. Feedback and applause may be the affirmation you need to keep working.
If you have been creating art for some time, it is expected that you will have number of art works and storage has become tricky. Flat work can be kept in a portfolio tucked under the bed, in a closet, or behind the couch but canvas and panels take up more space. A spare room is very expensive storage (even at our parent's house). Storing art in the basement is at risk for water damage. Art in the garage is at risk for theft or vandalism. You can loan art to family and friends to hang in their home of office or donate art to reduce on storage and clutter.
Is my art sellable?
At some point every artist asks, "Can I sell my art?" The simple answer is: Yes! Art sells all the time. It does not matter that whether you are self-taught or academically trained. Art will sell if the buyer likes it and can afford it. It can be bittersweet to sell your favourite piece. But, hopefully, you get money for art supplies; space is cleared so you have room to work; and you get a boost of encouragement that inspires you to make more art.
The best way to sell art is to get it out for others to see. But, when you display art, be prepared because someone will ask: "How much is this?" We have tip sheet to help you set prices.
Here are 10 Suggestions for Where You Can Show Your Art
1. Show your art at The Paint Spot.
Naess Gallery is a small exhibition space within The Paint Spot. Our goal is offer small spaces for artists to share work with other artists. We choose art that is unusual either in subject matter or innovative use of materials. We collect contact information and images from artist throughout the year. In August, we set the gallery schedule for the next calendar year so we can provide enough time for artists to create new work. Our gallery artists have videos interview posted on our YouTube channel and blog posts featuring their show. We encourage artists to add their interviews into own their websites.
Not ready for a show all on your own? That's okay because we host group shows too. Watch for our Big, Big 12×12' art shows. Artists, of any experience level, are invited to create a painting based on theme. Examples are Big, Big Portrait Show, Big, Big Pet Portrait Show and #LivingFigureDrawingChallenge. The next opportunity will be Pop! The 12×12 Show', so stay tuned.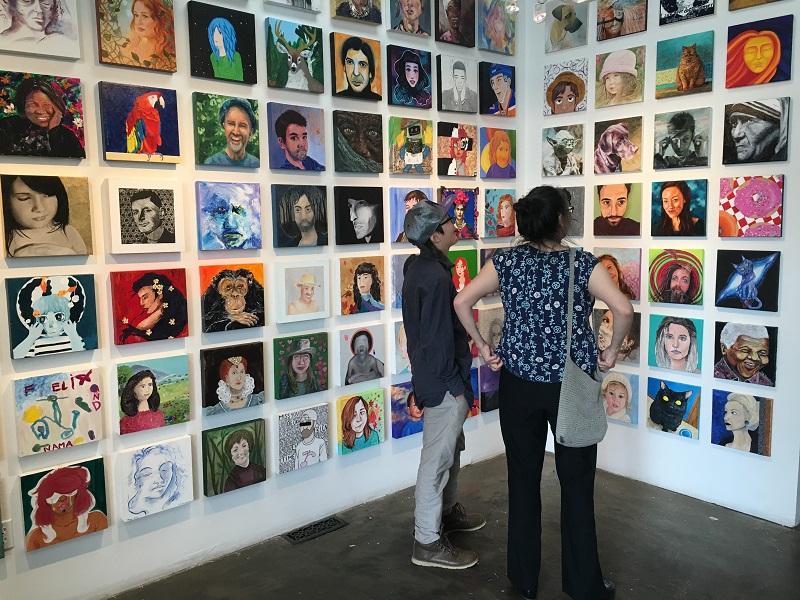 2. Share your art in a virtual show.
It requires practice and patience to learn new technical skills, but the effort will provide visual assets that have a longer shelf-life and reach a larger audience.
An online art exhibition might be an art album on your Facebook page or some images uploaded to your Instagram account.
Go live on Facebook or TikTok to share your process and show your art.
Host a virtual event on Zoom to share images and talk about your work.
Record these online events to create a video to post on YouTube to embed into your website.
3. Host your own art show.
These ideas are cost-effective and relatively easy; just pick a date and tell everyone.
Host an open studio – Pull out your art, hang it throughout your home (or create a gallery in your garage space) then invite your friends and colleagues to come over to see your work.
Plan a garden party – If you have a fence, you can hang art directly on it. Then, invite some friends over for a viewing. I love this one because it works. My friend from university paid the bulk of her student loan from one art show at her mom's house. Friends and family really do want to support you. Plus, you know your art is going to a good home.
Pop Up Shows – Your art display may be a welcomed addition to a community yard sale or church craft market, so why not take your art to where people are already shopping?
4. Join an art club to enter group art exhibitions.
If the thought of doing a show all by yourself seems overwhelming, join a local art club. You will meet experienced artists, learn from each other, and share the workload to create an event. Most clubs book exhibitions annually and invite their members to bring one or two pieces of art. They work together to create large, impressive shows to attract visitors and patrons. Often there are awards, prizes and bragging rights associated with these exhibitions. Here is a list of Art Clubs in the Greater Edmonton Area.
5. Show your art in cafes, diners, and other business
This is a popular option because it is low cost; relatively easy to do; and it benefits everyone: business, artist, and patrons. Here are two resources 16 Tips for How to Show Your Art in a Business and a List of Cafes & Diners in Edmonton that Show Art.
6. Show your art at malls, greenhouses, and golf clubs.
Seasonal businesses often seek art shows to animate underutilized spaces during the off-season. Sometimes these events are organized by an art club or you may find a facilitator eager to help you. I have heard of car dealerships, and relators hosting art shows as events to attract clients. A novel idea was once proposed by an audio-visual store that broadcast artists' work for sale on their large flat-screen TVs during a black-tie, sales event.
These spaces and opportunities change frequently and are usually discovered by word-of-mouth; another reason to join an art club or network with other artists at events.
7. Show your art at markets.
Artisan markets and maker markets are popular and attract a desirable demographic. It is a great opportunity to take your art to where the people are interested and already shopping for local art and handmade items. Like any tradeshow, you must pay to be there and work your booth. It pleasant experience to spend time working alongside other artists and makers.
Since customers will have a lot of diversity to look at, you will have more competition. You might have to invest in signage, easels, and backdrops, to create an attractive booth, so your work stands out too. An established market may have money machines available where patrons can withdraw cash to buy from the vendors. I recommend artists invest in debit and credit cards processor like Square; especially if you have high priced goods, because it will increase your chances of making a sale on the spot!
8. Show your art at art walks.
The Paint Spot ran The Whyte Avenue Art Walk for 27 years and this is our favourite category to help emerging artists find clients, make sales, and discover new opportunities. There are many art walks through out Alberta, so a dedicated artist could show art nearly very weekend during the summer. Stay tuned for a video series on tips for Working Art Walks?
List of Art Walks in Alberta
9. Show your art at festivals and tradeshows.
Take your art to where shoppers congregate; it is easier than trying to build an event to attract people. You may rent a booth or table space at tradeshows or local festival. Sometimes there is an expectation to have professional signage, display walls, easels, backdrops, and lighting to create an attractive booth that meets the standards of the event.
These events can be expensive, and the hours can be long. You must be always on site to work your booth. There is no surety that your art sales will cover the booth rental costs, but the networking and leads might make it worthwhile.
10. Show your art in an artist-run or non-profit gallery.
Non-profit galleries involve a group of artists who work together to show their work, promote the gallery, and sometimes offer community art classes or workshops. Some will even have studio space available for their members to create artwork on site. The co-op gallery will require a membership fee, which will go towards gallery maintenance, rent, promotion, etc. You may have to pay a commission when your art sells from the gallery.
Issuing a 'Call for Artists' is a standard practice of the public art field. A call is a detailed invitation for artists and provides important information for how to apply for a project or an opportunity. Read these carefully to ensure your art, and your background meets the criteria.
A call for artists typically include:
Exhibitions – artwork shows featuring selected artists
Competitions – awards for themed art contests
Vendor events – art fairs and craft show
Residencies – remote live-in spaces for creating art
Requests for proposals – paid art projects
Here are few links where you may find a 'Call for Artists'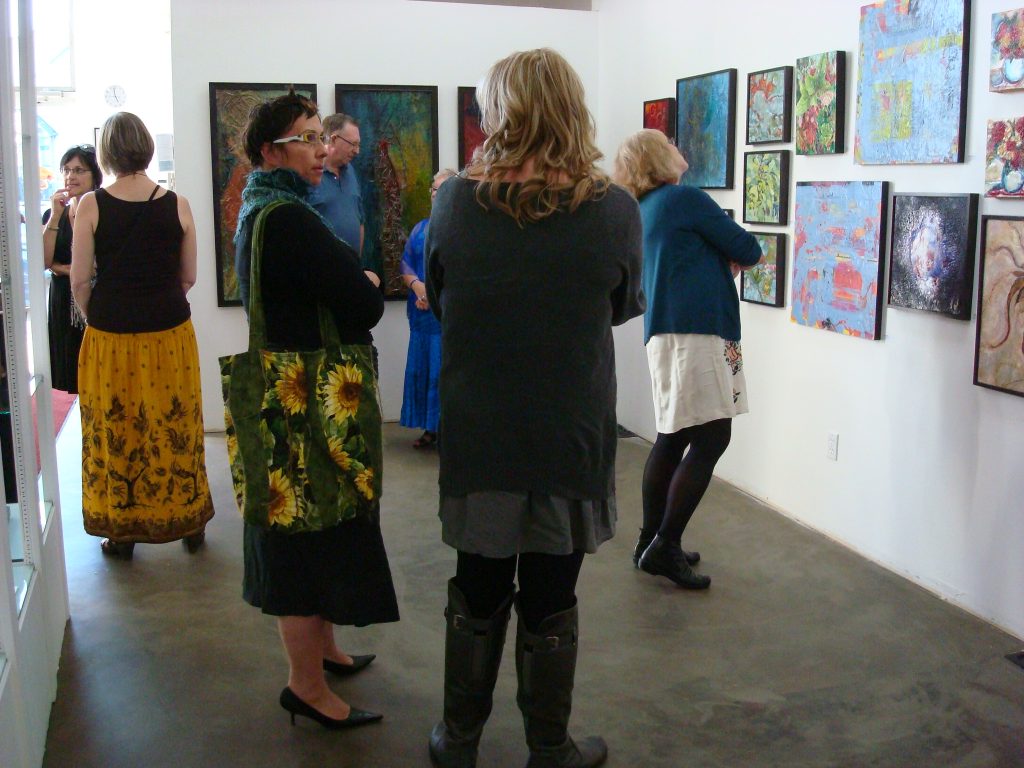 11. Show your art in a vanity gallery.
A vanity gallery is an art gallery that charges artists fees to exhibit their work or charges for a specified wall space. There are pros and cons to the value of vanity galleries. For the most part, vanity galleries don't promote and develop relationships with artists like commercial galleries do. They are not selective because they don't have to be. And it won't necessarily impress a gallery director if he or she sees it on your resume and many professional critics and reviewers tend to avoid them. Do your homework: check out the gallery; ask lots of questions about their marketing efforts and their customer base; don't forget to talk to exhibiting artists about their experience there.
12. Show your art in a commercial gallery
Commercial art galleries are businesses that derive their profit from sales of artwork, therefore they take great care to select art and artists that they believe will sell and will enhance their gallery's reputation. This is basically why these are the most difficult to get into but also the most important to be in. They spend time and money cultivating collectors. When artwork sells, the artist gets paid after the gallery takes their commission.
For tips on how to find and work with a commercial gallery, read this: How to Find a Gallery to Show My Art?
More Tips for Showing Your Art
List of Art Walks in Alberta
How to Join an Art Club?
Curated Exhibition & Calls for Artists
How to Use Social Media to Sell Art?
_________________________
Kim Fjordbotten: As owner of The Paint Spot, Kim Fjordbotten is passionate about helping artists use materials and make art. She is available as a speaker and educator for teachers and art associations. The Paint Spot offers exhibitions, classes, and beautiful art materials to inspire your creativity.
Did you appreciate this information? You can help us by purchasing your art supplies from The Paint Spot. We appreciate your business. It helps us keep making these free educational posts. Thank you.