At The Paint Spot we are often asked by artists, "Where can I show my art in Edmonton?" This resource is created to help artists find a spot in a café or restaurant to show their work. It is easy to negotiate space for hanging drawings, paintings, and photographs because it will help create an attractive space. A collaboration of this kind, will benefit both the business and the patron as well as the artist.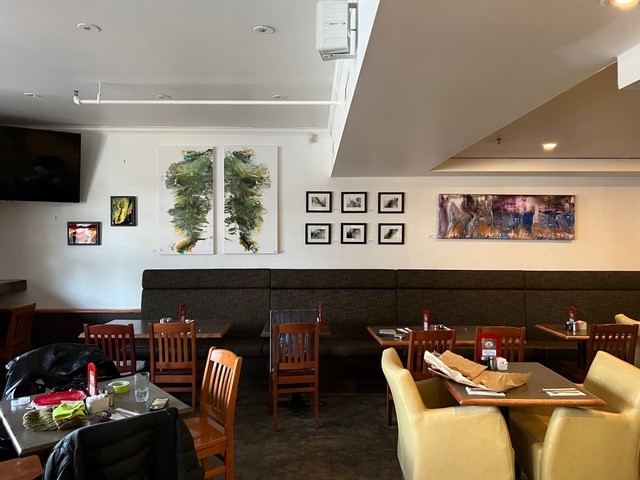 Tips for showing your art in a café:
Read 15 Tips for Showing Art in a Business for professional advice on how to approaching a local businesses to show your art. A professional, organized approach will make it easy for the owner to invite you into their space.
List of cafes and businesses looking for artists to exhibit:
Block 1912 – 10361 82 Ave., Contact
Café la Reine – 8927D 82  Ave., Contact
La Bosco– 10413 79 Ave., Contact
Take Care Café – 9621 82 Ave., Contact
Café Bicyclette – 8627 rue Marie-Anne Gaboury St., Contact
Cafe Mosaics – 10844 82 Ave., Contact
High Level Diner – 10912 88 Ave., Contact (780) 433-0993, long wait list, prefers big pieces
Earth's General Store- 9605 82 Ave., Contact (780) 439-8725, or inquire at bottom of website
Little Brick – 10004 90 St., Contact sell local goods – mainly prints and apparel
Grindstone Theatre – 10091 81 Ave., Contact
Cat Café on Whyte – 10111 82 Ave., Contact mainly sell cards, stickers, pins
Remedy Café – 7 locations in/around Edmonton, Contact 8331 109 St.,
Blue Chair Café – 9624 76 Ave., Contact (780) 989-2861, art exhibitions, often a long wait list
The Sugarbowl – 10922 88 Ave., Contact
Ritchie Market – 9570 76 Ave., Contact sells local goods, mostly prints
Old Strathcona Arts Emporium – 10309 82 Ave., Contact spaces to rent to sell art
Green Ash Café – 8903 83 Ave., Contact (587) 409-2277
Maven + Grace – 9601 82 Ave., Contact sell local goods like greeting cards
The Quiltbag – 10516 82 Ave., Contact, Contact "vendor/consign info"
Hideout Distro – 12407 108 Ave., Contact (780) 249-8303, sells local goods, mainly prints,
The Rooster Kitchen – 10732 82 Ave., Contact (780) 904-7352
Roots on Whyte – 8135 102 St., Contact
Millcreek Café – 9562 82 Ave., Contact
Propaganda Hair Group – 10808 124 St., Contact
If you suggestions to add more locations to this list, we would love to hear from you. Contact Kim Fjordbotten
More Ideas for Showing Your Art
List of Art Walks in Alberta
Join an Art Club
How to use Social Media to Sell Art
List of Art Walks in Alberta
How to Join an Art Club?
Curated Exhibition & Calls for Artists
How to Use Social Media to Sell Art?
---
Kim Fjordbotten: As owner of The Paint Spot, Kim Fjordbotten is passionate about helping artists use materials and make art. She is available as a speaker and educator for teachers and art associations. The Paint Spot offers exhibitions, classes, and beautiful art materials to inspire your creativity.
Did you appreciate this information? You can help us by purchasing your art supplies from The Paint Spot. We appreciate your business because it helps us keep making these free educational posts. Thank you.