Join us for a special evening. This Washi Art Talk presentation will infuse your creative process with new possibilities.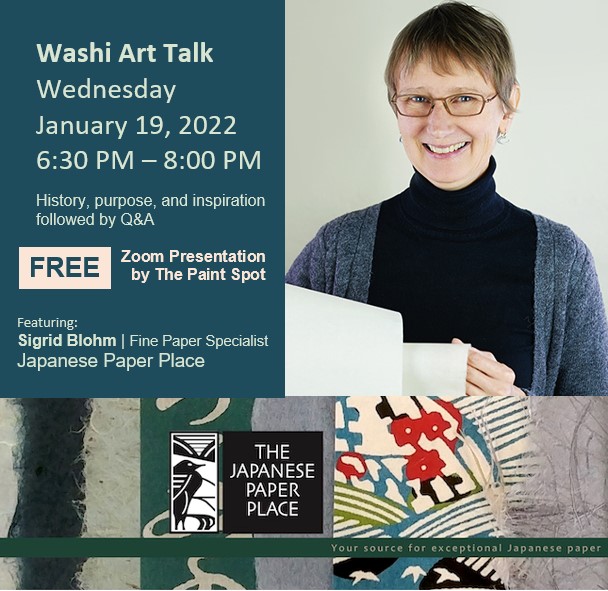 Sigrid Blohm's Washi Art Talk presented an introduction to washi-making, followed by images of artwork illustrating the characteristics of washi and how it's used by artists. A particular focus will be on Heritage Washi and other papers stocked by The Paint Spot. Included in the presentation will be artwork illustrations of Sigrid Blohm's work on painted, dyed and stitched washi. This is your opportunity to ask questions so you may gain confidence to experiment with these unique papers. We hope to encourage you to try a new surface that may add a new dimension to your art.
Sigrid Blohm is an artist who loves washi, textiles, and canoeing. She has extensive knowledge of the intricacies of Japanese papers, and their many uses. She puts this knowledge to task providing consultation services to JPP customers and staff.
Japanese Paper Place is North America's premier importer of heritage papers, made in the Japanese tradition.
Find Washi papers at The Paint Spot.
_________________________
Kim Fjordbotten: The Paint Spot owner Kim Fjordbotten is passionate about helping artists use materials and make art. She is available as a speaker and educator for teachers and art associations. The Paint Spot offers exhibitions, classes, and beautiful art materials to inspire
your creativity.
Did you appreciate this information? Did it help you find art walks in Alberta? You can help us by purchasing your art supplies from The Paint Spot. We appreciate your business, which helps us keep making these free educational posts. Thank you.