Up to 100 artists may be selected to create a painting in the parkade at the Louvre in Century Park in south Edmonton. Every participating artist will be paid $50 upon completion of their mural.
The Louvre at Century Park 2504 110 Street NW (the old Heritage Mall site).
Saturdays from 10 AM to 5 PM October 16, 23, 30 and November 6, 13
Five Cash Prizes to be Awarded
1st $5000
2nd $2000
3rd $1000
4th $1000
5th $1000
The experience and networking opportunity is going to be fun. Paint with other artists; create something cool; celebrate and share creativity on social media; and add to your resume. Artists may even be selected to create more murals for the project.
Grab Inspiration!
The approximate size of art is 18" x 60" on two or four sides of a primed, concrete pillar in a parkade. The pillars are rectangular in shape and have a definite front and back; sides are not as important. Artist quality, acrylic paints must be used. Participating artists get a 30% discount on any art materials at The Paint Spot.
Theme is art from the Louvre or of Parisian influence. Consider replicating paintings, and drawings. Paint a version of your favorite sculpture, architecture, street scene, or garden.
Gather ideas beyond the Mona Lisa
Explore the Virtual Collection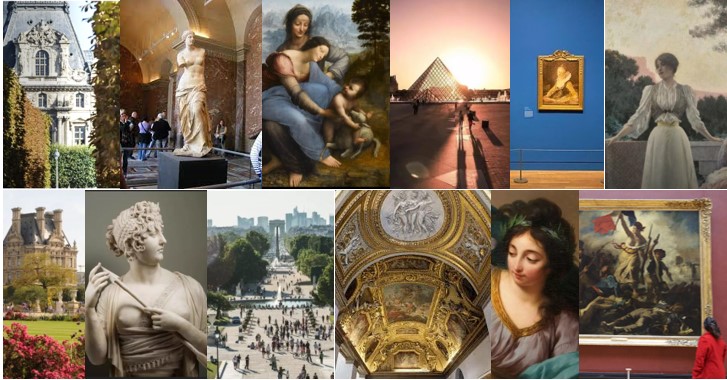 Application process is easy! Simply complete the online form.
Upload an example of your work to show the style you will create.
Upload an image of the inspiration or source idea.
Upload a sketch or doodle of how your art would fill the pillar.
Be sure to include your contact information, website, and social media.
Application deadline is September 25, 2021.
Selected artists will be notified before September 30, 2021.
Yes, you may enter up to 3 different proposals if you wish.
---
Got Questions?
A Zoom Q&A Session was held on Thursday September 16. Kim Fjordbotten introduced partners; discused inspirational ideas; reviewed scope of project: outlined criteria for judging; and shared suggestions for successful applicants.
Timeline
September 25 – Deadline to apply by 12:00 PM
September 30 – Selected artists will be notified by email.
October 9 – Participating artists will receive notice of the exact site access, check-in procedures, unloading instructions, and parking. Contact information for site supervisor will also be provided.
October 16 to November 13 – Productions times are Saturdays from 10 AM – 5 PM
November 27 – Awards will be announced.
---
The project is a collaboration between Procura, Louvre Residences at Century Park and The Paint Spot.

Here is a sneak peek at what ideas are already being submitted.