The Melissa Baron exhibition Studying the Sky ran at the Naess Gallery at The Paint Spot from Oct. 13 – Nov. 24, 2020. You can watch the artist's talk below.
Melissa Baron – About the exhibition
My interest in skies began with colour-drenched winter sunrises. In the darkest moments of the year, the start of the day brings transcendent and exhilarating colour. I paint sky after sky, finding they are never exhausted. There is always another wisp of violet-blue illuminating a cloud, another band of the faintest green at the horizon to explore. Each day varies with the weather and the season.
Not always saturated with colour, skies darken at times with heavy storm clouds. In Alberta, we watch the storms lurking on the horizon, creeping closer with every breath. The most violent storms are crushing: the wind bowls us over, the howl deafens us, and the darkness blinds us. The sheer power of a storm exhausts our patience and resolve and brings us face-to-face with our frailty and terror.
And while things may never be the same – trees broken that will not regrow, a crop that is lost, flattened by the rain – something happens when we learn what fear really means. It can break us, but sometimes it can also create us. A storm can teach us not to fear a shadow because we have sat in the infinite dark. It also teaches us that when the sun does rise, its beauty is potent.
Most storms do pass, and our small world is transformed – whether the storm wracks the trees outdoors or the timbers of our hearts.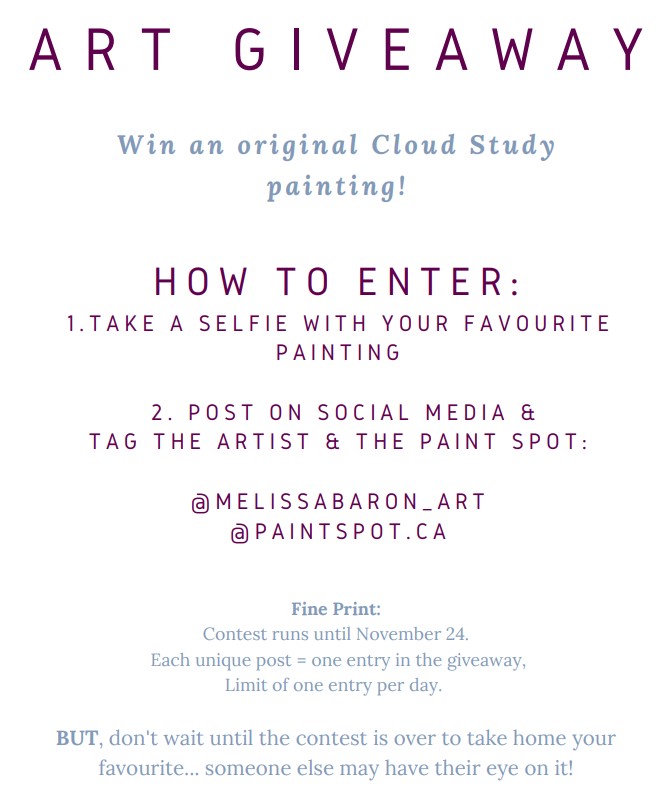 ---
Naess Gallery
10032 81 Avenue | Phone: 780 432 0240 | Email: accounts (at) paintspot.ca
Named for Sidsel Naess Bradley, The Paint Spot's founder. who recognized the need for spaces that promote the exploration of artistic ideas and innovative processes. We are extremely proud of this heritage and its contribution to the development of many artists. Naess Gallery continues to be inclusive, encouraging dialogue among artists and visitors. We welcome proposals for exhibitions that push materials, techniques, subject matter, and conceptions.
In planning the Exhibition Year, we will be inviting artists whose practices we admire to exhibit their new works. It will be a year to revisit artists who have shown in the Naess Gallery in the past and to reveal new artists as well. We are going to see an exciting and enriching program of shows! If you have questions about the Naess Gallery or its exhibition program, please ask Kim Fjordbotten phone 780 432 0240.
See what's new at the Naess Gallery. Find inspiration in the many artist talks.