Halloween ideas are plentiful on social media. So grab your favourite idea and visit The Paint Spot. Here are some popular items to help you put the finishing touches on your handmade costumes. We can help make it happen. Crazy ideas are welcome.
Top seven list: Most requested art products for handmade Halloween costumes!
1 Glow-in-the-dark paint
Glow in the dark paint is Phosphorescent Acrylic Gel, taking your handmade costumes to a new level. The paint is charged by sunlight and then glows in the dark. Ghosts, skulls, mad scientists, aliens, dead celebrities, and evil cosplay are costumes that all benefit from glowing in the dark.
2 Fluorescent paints
Fluorescent Paints glow under black light. We even have Invisible Glow-Under-Black-Light Face Paints in yellow, green, blue, and purple. Costume ideas are similar to the above and also include Festival Performers, Glow-Ravers, and Cirque de Halloween.
3 Face & body paints
We have Ruby Red Face and Body Paints. They are easy to use, easy to remove, hypoallergenic, vegan, paraben-free, and gluten-free with long-lasting colour.  We have a blog post here Ruby Red Face Paints. Then you can create monsters, ogres, fantasy creatures, or the entire zoo! Safe for all ages. You can read about Ruby Red face and body paint safety standards here: http://rubyredpaint.com/safety.html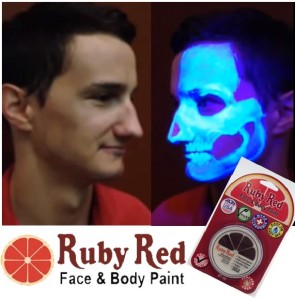 4 Plaster Bandages for handmade costume structures
Plaster Gauze can be put over mesh and cardboard to add rigidity and create a hollow structure for bulky costumes. You can even make your own body cast!
Build masks, exaggerated appendages, props, or authentic "fake casts".
5 Face mask forms
Plaster and latex should NOT be used directly on the skin. It is better to build your facial parts on these Plastic Faces. Most of us think they are pretty creepy just on their own 🙂
6 Metallic gold, silver, and copper for handmade costumes
Metallic gold, silver, and copper are available in both water-soluble Tempera Paints and durable Acrylic Paints. New! We just received some wonderful metallic Gilder's Paste Wax. Just a dust of this metallic wax can turn any surface into authentic-looking metal. (This paint can also be used to touch up picture frames, eyeglasses, and other metallic surfaces). It is best to visit our shop to see the demonstration. But the image below is pretty too.
Load up on all your armor, steampunk, sci-fi, and heavy metal.
7 Textile paints and fabric pastels
Textile Paints and Fabric Pastels for adding lettering and details to clothing for quick affordable transformations.