Description
Montana Vintage Spray
Ever found yourself lost in the romance of second hand shops, looking at the retro objects and wondering what stories lay behind the aging façade? Now you can create that flair yourself on almost any object or surface and upcycle it into something inspiring. Whether you're an experienced DIY-ist or new to arts and crafts, Montana Vintage Spray is the tool for your retro project.
This product is a solvent-based, high quality acrylic, low pressure effect spray. The transparent yellow coating is UV-resistant, quick drying semi-gloss finish with best results on white or light colors. Montana Vintage Spray is perfect for all creatives that are trying to create a vintage or aged effect.
Applying this effect to your favorite black and white photos can create an authentic looking vintage touch. Signage and furniture can also become a center piece for any home of business. With multiple layers of VINTAGE Spray and some smooth sanding when fully cured, new objects can appear as if they have a longer story to tell.
The Vintage Spray Filter can be combined with Montana VARNISH for additional protection once completely cured. Ideal for use on surfaces that are painted or printed, on furniture, photos and many other substrates. Multiple layers of the Vintage Spray Filter, irregular coating and smooth sanding (when fully cured) will intensify the effect.
BROCHURE DOWNLOAD: TECH & EFFECTS BROCHURE DOWNLOAD pdf.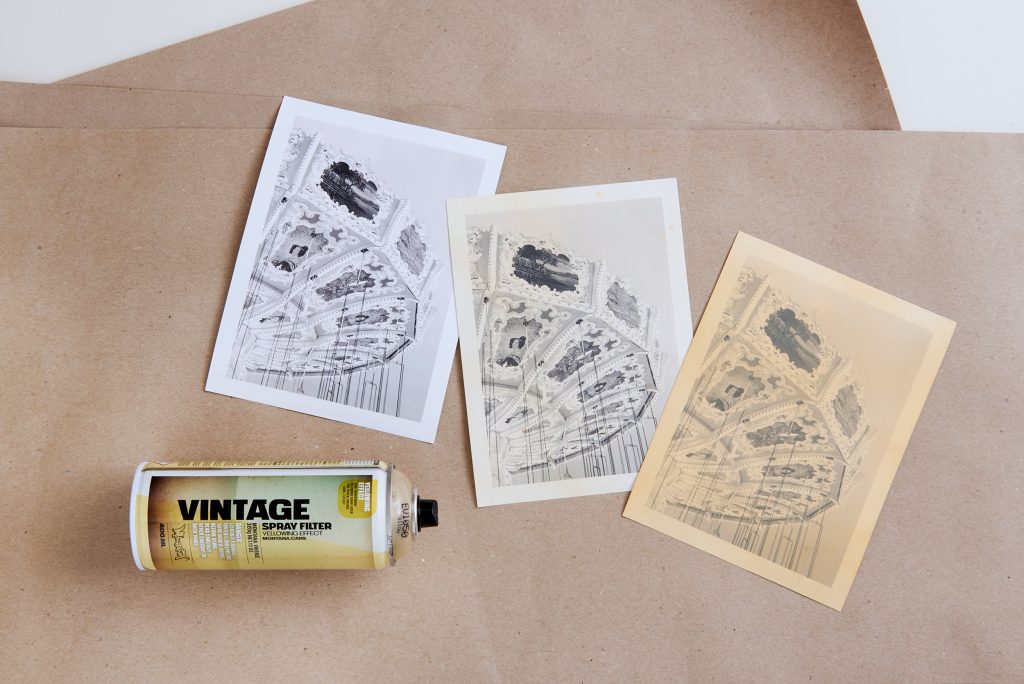 FAQ
WHAT IS MONTANA VINTAGE 400ML SPRAY AND HOW DOES IT WORK?
Montana VINTAGE 400ml spray is a low-pressure, solvent-based, high quality acrylic paint, that when applied, creates the aesthetic of a vintage or aged look. The Montana VINTAGE 400ml is a yellow transparent coating that is uv resistant and dries in a semi gloss finish.
WHAT CAN I USE MONTANA VINTAGE FOR?
Montana VINTAGE is ideal for interior or exterior use and can applied to objects and artworks to give them an aged appearance, as if the were originally created a long time ago. Black and white photos can become vintage in no time. New furniture or signage can receive a retro touch in seconds.
HOW DO I GET THE MOST VINTAGE LOOK OUT OF MY MONTANA VINTAGE SPRAY?
Where applicable (not on photos), Montana VINTAGE works best if applied in thin, even, multiple coats. Light colored prints, pre-primed surfaces that are primed in white or light colors offer the best results. We recommend pre-priming with the Montana GOLD color SHOCK WHITE. Multiple layers of the VINTAGE, irregular coating and smooth sanding (when fully cured) will intensify the used look effect.
HOW DO I START USING MY MONTANA VINTAGE CAN?
Remove the spray nozzle and turn the can upside down. Strike with your palm allowing safety ring to fall out. Shake vigorously for 2-3 minutes ensuring you can hear the mixing balls moving freely. Replace the cap back onto the top of the can valve and trigger away from substrate to test. If flowing freely you can start painting.
WHICH SURFACES CAN I USE MY VINTAGE 400ML SPRAY ON?
Montana VINTAGE can be used on smooth, rough and primed surface such as surfaces that are printed, painted, furniture photos and many more substrates.
HOW LONG DOES MONTANA VINTAGE TAKE TO DRY?
The drying time for Montana VINTAGE varies depending on substrate, ambient temperature and levels of humidity. Dust dry occurs in apx. 10 minutes, touch dry in one hour and curing occurs after 24 hours.
IS MONTANA VINTAGE 400ML SPRAY AS DURABLE AS OTHER SPRAYS?
The Montana VINTAGE 400ml spray has UV blockers within the paint binder ensuring durability is premium as in the other transparent colors within the Montana GOLD range. Longevity and durability can be increased by applying Montana VARNISH over the finished work once the spray has completely cured.
HOW FAR SHOULD I HOLD THE CAN AWAY FROM THE SUBSTRATE WHILE PAINTING?
Optimum distance from substrate is normally between 15 and 25cm depending on your task. Thin, even layers are optimal.
CAN I PAINT OVER THIS SPRAY WITH OTHER PAINTS?
You can apply other paints and effect coatings over VINTAGE including Montana GOLD, Montana BLACK, Montana WHITE, ACRYLIC markers, as well as customary acrylic paints. It is important that the VINTAGE 400ml spray is completely cured for 24-48 hours.