A Cult Brand Since 1983
Since 1983, POSCA water-based paint markers have been used by professionals, beginners and children for artistic creation, creative crafts, hobbies, decorations, urban art, educational activities and fine arts. The markers work on almost any surface –  paper, wood, textiles, cardboard, metals, ceramics, glass, plastics and more. POSCA's aim is to create an artists' community and encourage creativity on every level.
Features
Water-based paint
Alcohol & solvent free
Opaque matte finish
40 Colors
Tip sizes ranging from .7mm to 15mm
Work on more than 50 surfaces including paper, wood, textiles, cardboard, metals, ceramics, glass, plastics and more
Ideal for fine art, crafts, kids projects, home décor, card making, board customization, murals & urban art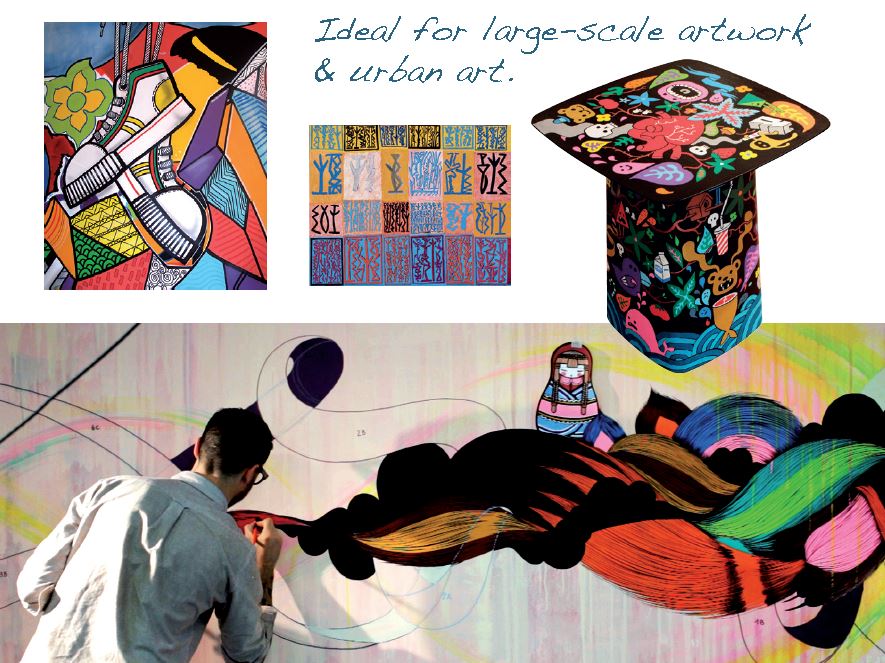 Ideal for all Types of Art
POSCA water-based paint markers can be used on almost any surface
"Non-toxic, water-based POSCA markers can be used on almost any surface so you can express your creativity freely. The alcohol- and solvent-free opaque paint covers well, is blendable, dries quickly and can be overlaid when dry. The pen has a valve mechanism for a tight paint seal and a ball inside the barrel that mixes the paint, allowing for even paint consistency, texture and continued optimal results. The pen tips can be rinsed with water and some are reversible. The cap ensures protection and longevity of the pen tip. There is no need for a base; these versatile markers can be used on paper, glass, cardboard, wood, porcelain, metal, textiles, ceramics, plastic and much more without priming (the markers will however produce different results on certain surfaces with a primer). They can also be used like watercolor when mixed with water and a brush. Available in tip sizes ranging from .7mm to 15mm for all types of art, craft, graffiti, décor and more.
The PC-350 brush tip marker combines the advantages of a paintbrush with the benefits of a pen. With its soft tip, it can be used for hard to reach areas, and it allows professionals, beginners and children to experience the pleasure of painting without the props. The PC-1MR ultra-fine tip marker has the same qualities as a paint marker in the form of a fine tip pen. It's designed for professionals and beginners requiring an ultra-fine and consistent line in a wide selection of colors. The PC-1M extra-fine, tapered bullet tip marker is ideal for fine detailed work. A favorite of both children and adults to color or write with accuracy. The PC-3M fine bullet tip marker is great for both coloring and writing clean lines. This versatile marker can be used to customize, create, decorate or mark anything that inspires you. The PC-5M medium bullet tip marker is the 'multi-purpose' marker of the POSCA range. It produces neat and precise lines, and is ideal for coloring. An all-around favorite of both professionals and beginners. The PC-8K broad chisel tip marker draws neat curves and covers large surfaces. It is available in a wide range of colors for beginners and professionals. Ideal for flat-tints, urban art, sign making, interior design, board customization and more. The PC-17K extra-broad, rectangular chisel tip marker is a favorite of professionals and artists for creating large-scale artwork. Great for filling in background colors, wall murals, urban art, interior design and more.
Here are links to a full guides: Posca Paint Pens Full Guide