Description
Montana EFFECT Metallic Spray 400ml
The Montana Metallic Effect Sprays bring state of the art paint technology to traditional metallic effect colors. Loaded with a Montana Standard cap, these cans provide excellent delivery and reliability under medium pressure output. Not only are the Montana Metallic Effect colors ideal for application on functional objects such as bikes and furniture, they can also add a metallic flare to any creative or artistic project on paper, cardboard, primed canvas, wood, glass, metal, ceramics, porcelain, stone, acrylic and other paintable materials. Made from an Acrylic-Nitro Combination base, the paint surface dries to a durable semi-gloss finish which is both hard wearing when cured (24+ hours) as well as flexible.
For best results shake can vigorously for approximately 3 minutes before use and apply at a distance of 15cm – 20cm to a pre-primed substrate. Re-shake between intervals to assure settled pigment is re-mixed. To enhance color result even further, pre-prime substrate with a similar Montana GOLD color as base. Apply in thin multiple layers, varying application strokes from vertical to horizontal on each run. Optimum use temperature is between 10 and 15 degrees Celsius. Drying time is normally around 10 mins for dust dry, 20 minutes for touch dry and 24 hours for total curing. Please note drying times vary subject to room temperature and moisture levels. To protect your artwork to its fullest, apply Montana spray Varnish in Gloss, Semi-Gloss or Matt once Metallic Effect colors have dried and cured. We do not recommend objects painted with Metallic Effect colors be exposed to high temperatures over 80 degrees Celsius.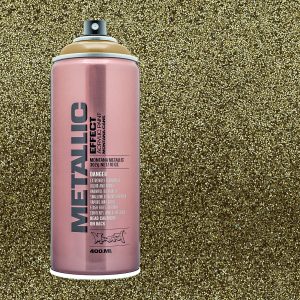 FAQ
ARE METALLIC EFFECT COLORS THE SAME AS NORMAL MONTANA GOLD COLORS?
Read more

Montana METALLIC EFFECT colors are not exactly like normal Montana GOLD colors, although they are compatible with each other when dry. The METALLIC pigments are literally micro metallic flakes that originate as silver particles that are then tinted tot he desired color.

ARE METALLIC EFFECT COLORS AS LIGHT FAST AS THE OTHER COLORS? CAN I PROTECT THEM?

The Montana METALLIC EFFECT colors do have superior lightfastness and contain UV blockers. However they are not as light fast as normal Montana GOLD colors, depending on the exposure to harmful UV rays. Montana METALLIC EFFECT colors will outlast the longevity of the other brands. You can protect and greatly extend the longevity of METALLIC EFFECT colors by applying a Montana Varnish over the finished work once it is cured.

ARE THE METALLIC EFFECT COLORS AS OPAQUE AS OTHER COLORS?

The Montana METALLIC EFFECT spray colors are superior in opacity compared to any other brands of metallic effect spray. Because the metallic pigment is dispensed in a clear vehicle, multiple coats may be required to reach desired optic. Additionally, any pre-coatings underneath the applied METALLIC EFFECT colors will influence the appearance of opacity. Light metallic colors appear more opaque if applied to white/light substrates, dark metallic colors appear most opaque when applied to dark substrates (where possible).

CAN I USE MONTANA METALLIC EFFECT COLORS LIKE ANY OTHER MONTANA GOLD?

Yes. Once cured, Montana METALLIC EFFECT colors are intermixable and can be handled, painted over or re-coated with any other Montana GOLD. Please note that due to the greater pigment size, the METALLIC EFFECT colors do perform differently and have a standard O nozzle to deliver the pigment through the valve to minimize potential blockages.

WHY DO METALLIC EFFECT COLORS COST MORE?

As metallic pigments are literally flakes of metal that are colored, to produce them has greater costs as there are more steps to turn the raw materials into usable, long lasting color. The greater size of these pigments also means different parts within the an to enable delivery of paint effortlessly as you are used to from all Montana Cans.

DO METALLIC EFFECT COLORS HAVE THE SAME FINISH AS OTHER MONTANA CHROME EFFECT OR NORMAL MONTANA GOLD COLORS?

Montana METALLIC EFFECT colors are not as shiny as CHROME EFFECT colors. This is because metallic particles in METALLIC EFFECT colors are inside the paint vehicle as opposed to on top of it. The metallic particles in the METALLIC EFFECT sprays are visible once the paint is dry. Please note that the ground color and it's finish can influence the finish of METALLIC EFFECT colors that are applied over them.

HOW DO I GET THE BRIGHTEST RESULT?

For best results, apply METALLIC EFFECT colors onto non-porous surfaces coated white/dark colors (depending on metallic colors used). The more coats applied, the brighter and more long lasting the metallic effect will be. Please allow minimum 10+ minutes drying between each coat. Wet on wet application will diminish the metallic effect.

CAN I PAINT MY BIKE WITH METALLIC EFFECT SPRAYS?

METALLIC EFFECT sprays are ideal for painting bikes and metal objects. For best results, sand off top coats or return to bare metal. Clean surfaces of dust, and oils as well as rust. Apply Montana METAL PRIMER for extra corrosion protection. Apply multiple coats of METALLIC EFFECT color(s) once each layer has dried over night, remembering to sand lightly between coats.

WILL THE FINISH BE LIKE A COMMERCIALLY PAINTED BIKE?

Montana METALLIC EFFECT sprays are abrasion and weather proof. However, due to the toxic nature of commercial grade paints on factory painted bikes, for a commercial like finish we suggest multiple coats of Montana VARNISH to increase it's strength. For a commercial grade finish, a 2 component clear coat needs to be applied. We suggest seeing a car bodywork professional for assistance with this.

ARE METALLIC EFFECT COLORS AS SHINY AS CHROME EFFECT COLORS?

Montana METALLIC EFFECT colors have a different function tot he chrome effect colors. As such, they are not as shiny, but are more durable with greater longevity. Apart from use on general creative projects, we recommend using METALLIC EFFECT sprays for functional objects.

ARE METALLIC EFFECT COLORS ABRASION PROOF?

Montana METALLIC EFFECT colors are abrasion proof with a hard finish when completely cured. This process normally takes at least 24-48 hours depending on conditions, amount of coats and ambient temperatures.