Description
Sakura Pigma Sensei Manga Set
Among the variety of Manga guides and kits, the choice for drawing Manga is clear – Pigma Sensei. Learn to draw like the pros using the same rich, black Pigma ink that's been the trusted ink of Manga professionals for over 30 years. This set includes the following pens. 0.3mm, 0.4mm, 0.6mm, 1.0mm, 1.0mm chisel, 2.0mm chisel, 3.0mm chisel as well as a 0.7mm mechanical pencil.
Pigma Sensei drawing sets include the tools you need to illustrate in the Manga/comic style. Use chisel nib inking pens for sharp expressive lines and filling in large spaces. Use fine lines for facial expressions, lettering, detailing, and bold lines to add impact and drama. The pencil's fixed sleeve protects the sturdy lead from breaking whether when sketching or using templates. Sketch whenever creativity sparks and take a Pigma Sensei drawing set to classes or conventions for quick commissions.
Pigma Sensei Features:
Archival quality, black Pigma ink
Will not smear or feather when dry
Waterproof, chemical proof, fade-resistant
Does not bleed through most papers
Not recommended for use on fabrics intended to be washed
Not evaluated for cosmetic use on skin
Meets ACMI non-toxicity standard
Recommended Uses:
Manga & comic illustrations
Creating concepts & sketching
Taking notes, journaling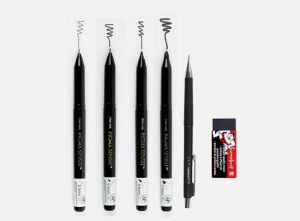 Sakura – A world of possibility powered by human creativity. For Sakura, it's not just about the pens. Sakura produces quality products with only the best materials, so that you can express yourself and unlock your unique creative potential.