Description
da Vinci Casaneo Rigger Series 1290
Da Vinci Casaneo brushes are known for their suppleness and colour absorbing capacity. These brushes have been designed for watercolour and inks but also work well for fluid acrylic and silk painting. This Casaneo Rigger brush is perfect for creating long, thin lines. The exceptional water holding capacity allows the artist to paint continuous lines without breaks.
For the love of animals. While Casaneo brushes may look as beautiful as natural hair squirrel brushes, they are actually manufactured from extra smooth, slightly wavy, synthetic fibers. They closely mimic the style and effect of similar brushes made from natural squirrel hair, yet are vegan.
Kazan squirrel hair has been getting more and more difficult to purchase during the last years. Therefore, da Vinci decided to develop a synthetic fiber allowing equally smooth and elastic brush strokes, as well as a precise painting technique. These brushes have been rigorously tested by professional watercolour artists and received rave reviews. Watch the videos below to see the water holding capacity and spring of this over-performing brushes. Pretty to hold and behold.
Click here for brush measurements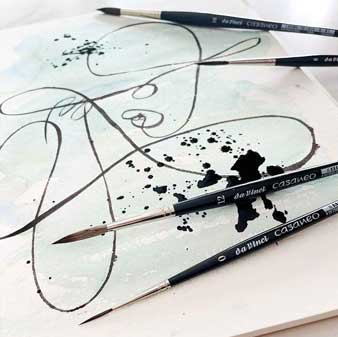 Handmade in Germany
CASANEO assortment is an alternative option for painters who prefer a vegan life style and are concerned when using nature hair brushes.