Description
da Vinci Urban Watercolor Journey Rigger Brush Set
This watercolor rigger brush set from da Vinci features four beautiful, synthetic, vegan rigger brushes designed specifically for urban painting. The da Vinci 5602 set includes two Cosmotop-spin riggers, size 1 and 6, as well as two Casaneo brushes, 1 Rigger size 8 and a Casaneo XS rigger size 8.
The Casaneo XS 989 rigger brush features an extra short handle with long and soft fibers that have an extremely high water absorbing capacity. This allows for large strokes on large areas. The Casaneo 1290 Rigger brush is particularly suitable for smaller, irregular or abstract structures, such as plants. The Cosmotop Spin 1280 rigger features stronger fibers and is perfectly suited for precise painting. It's medium length fiber comes to a sharp needle point, with a very soft, light-brown synthetic fiber mixture. From bricks to paving stones to blades of grass – these fine details can be realized perfectly with the size 1 and 6 riggers.
Included:
Cosmotop-Spin 1280 Rigger size 1 & 6
*images not to scale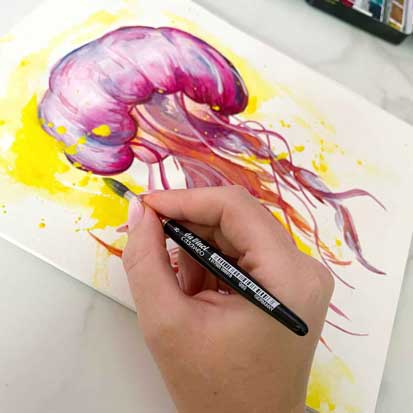 May & Berry Rigger Crew brush set 5602 by da Vinci Brush.