Exhibition: Brie Adkins, Where to Find Magic, ran from May 13 – June 22 at the Naess Gallery, The Paint Spot.
Brie Adkins
Hello, my name is Brie Adkins and I live in a rural hamlet called Entwistle which is one hour West of Edmonton along the Pembina River.
In which techniques do you mostly work?
Mostly work with paint. Day-to-day the type of paint varies from acrylic to gouache, to oils to spray and even residential paints. I apply my knowledge to a lot of various mediums to express how I am feeling. If I am feeling big energy and ambitious I will spray paint the side of my house. If I am feeling like relaxing I will cuddle up on the couch under a blanket and do digital drawings. My technique is to get the idea out in full color before another one comes. The method follows and the technique goes from there.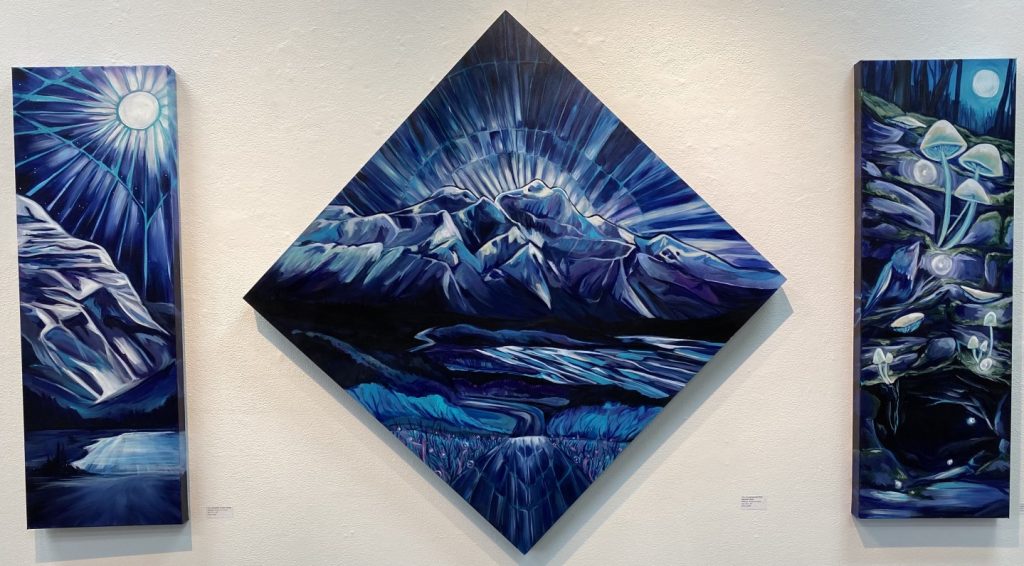 Brie Adkins, what inspires you? Do you have favorite subjects?
I am inspired by the moments. Every best memory, discovery, and revelation comes from just seconds of your life. These moments inspire magic – they invoke irreplaceable feelings. Moments that inspire me look like this;
Discovering something new with my kids while in nature, like a tree mushroom
The feeling of problems washing away when approaching a massive mountain or looking at stars.
Finding a metaphor for strength or play when an animal crosses your path by chance.
The energy of a new place, how it feels in that moment
What is your favorite medium? (Acrylic, oil, clay?)
With unlimited ways to express myself, I find it hard to pick just one. Where one day I paint the next may be sanding down soapstone.
What art supplies can't you do without? Why?
Acrylics are a must for they are so versatile. There are an endless number of applications and techniques to learn with them. Also, anyone on any level can use them.
What social media access to Brie Adkins do we have?
Facebook: B.Adkins Art
Instagam B.Adkins Art
Where can we see your art?
My art can be found at my own gallery and open studio in Entwistle, Salt of the Earth Gallery.
Other locations include;
Gossamer Gallery, Wabamun
Local Collective, Drayton Valley
Public art pieces can also be found throughout Alberta with a little bit of looking on my website.
Which artworks do you most want our readers to see?
Currently, the Where to Find Magic Exhibition at the Naess Gallery is my favorite body of work because each piece is so personal for me. Each landscape has a story behind it and I hope evokes a memory for the viewer. There is a sense of longing for the moments in those pieces and it is really my most magic body of work to date.
I know that you run your own gallery, tell us about it and the work and people that you typically feature at your gallery
Salt of the Earth Gallery is a space for women artists and makers to showcase their work in a rural setting.
This space features work from 12 women artists in the Greater Edmonton Region who each show roughly 4-6 works on the colored archway painted walls. The makers are glassworkers, sewers, potters, jewelers, soap makers, and more who create exceptional high-quality items. These women have access to the space for making and displaying work anytime and hosting classes as they wish.
This gallery accommodates small classes and workshops, features a 20'x40' mural on the side of the building, and includes my own open studio for guests.
For myself, it has been important to create a space in my rural community where the arts have a voice. Here we are breaking stigmas about women in arts (who are still underrepresented in major gallery systems today) We are promoting rural artists and creating conversations about how the community can create more opportunities for rural artists. We are educating the public about art in all forms – from the basics of brush holding to fair value pricing of art. By having an open studio we also aim to educate people about what a professional art practice can look like. This gallery does more than represent women artists, it holds space for thriving artists in a rural setting and for me this is a very important space.

---
Naess Gallery
10032 81 Avenue | Phone: 780 432 0240 | Email: accounts (at) paintspot.ca
Named for Sidsel Naess Bradley, The Paint Spot's founder. who recognized the need for spaces that promote the exploration of artistic ideas and innovative processes. We are extremely proud of this heritage and its contribution to the development of many artists. Naess Gallery continues to be inclusive, encouraging dialogue among artists and visitors. We welcome proposals for exhibitions that push materials, techniques, subject matter, and conceptions.
In planning the Exhibition Year, we will be inviting artists whose practices we admire to exhibit their new works. It will be a year to revisit artists who have shown in the Naess Gallery in the past and to reveal new artists as well. We are going to see an exciting and enriching program of shows! If you have questions about the Naess Gallery or its exhibition program, please ask Kim Fjordbotten phone 780 432 0240.
See what's new at the Naess Gallery. Find inspiration in the many artist talks.