The Paint Spot carries many handmade papers. Japanese Paper Place and St Armand are our favourites.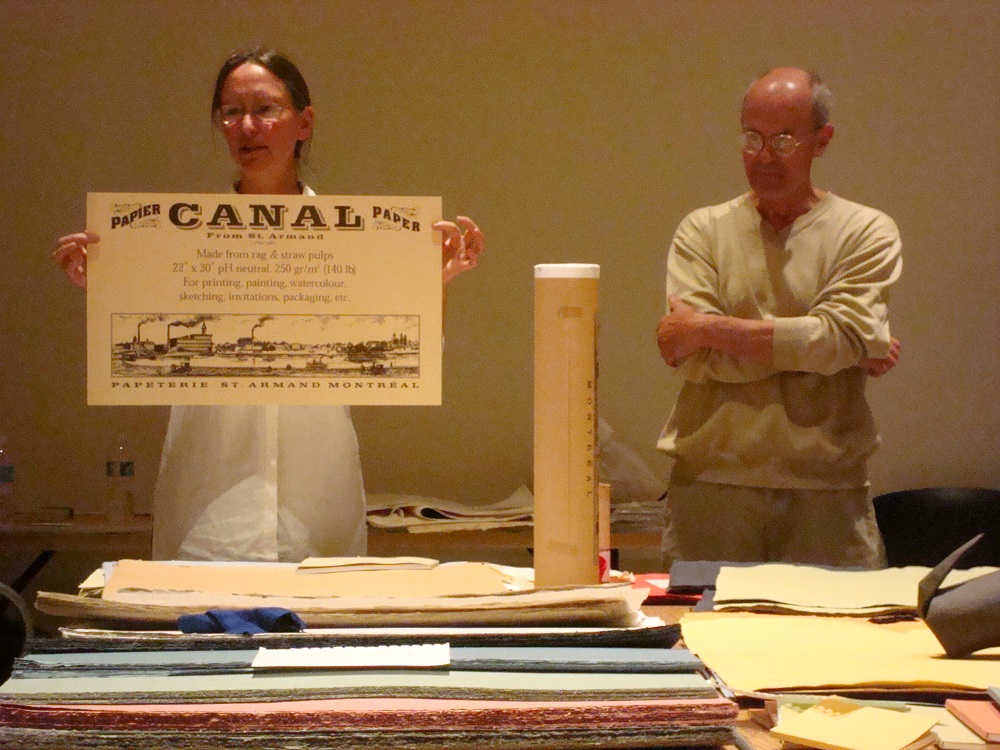 Paper Mulberry (Saa)
Modern artists, craftspeople, and hobbyists have vastly expanded the range of applications for mulberry paper, called Saa in Thailand and chiyogami in Japan. The most common uses are probably as cover papers for bookbinders, and as accent or envelope linings for invitations, but many other uses for handmade papers are possible and common.
Mulberry is a tree native to Northern Thailand. It is a persistent perennial and regenerates itself after each harvest. Making handmade paper from it is labour-intensive but worth it. Mulberry's long fibers are ideal for creating strong durable papers. Talented papermakers ensure artists have an unlimited range of colours, textures, and patterns.
The handmade paper process
Artisans soak the bark and boil it with wood ash, before pounding it to a pulp. The pulp is put in a vat with plenty of water, dye, and inclusions like petals, leaves, grass, thread, and even other recycled papers. Skillful craftsmen submerge a screen into this solution and agitate it to create a perfectly even coating of the pulp mixture across the screen surface. The thickness or density of the pulp decides the thickness of the paper. A master paper maker will make exactly the same thickness every time, just by the feel.
A maker can add extra inclusions after the screen is then lifted out of the water and drained. Sometimes additional coloured pulp is poured onto the screen in patterns. Once the screen is fully drained it is flipped over and tapped to release the pulp. The pulp is flattened and blotted to remove excess water and then left to dry. The resulting paper is strong and beautiful.
What do artists do with handmade papers? Here are 54 ideas:
 Acrylics – prime with clear gesso or matte medium
Birth announcements
Block print
Book sleeves
Bookbinding
Bookmarks
Box making
Business cards
Calligraphy
Card making
Chigiri–e (ちぎり絵), a Japanese art form in which the coloured paper is torn to create images resembling watercolour paintings
Collage, is a technique where the artwork is made from an assemblage of different forms and materials
Decoupage, is the art of decorating an object by gluing colored paper cutouts onto it in combination with special paint effects, e.g., on trays, boxes frames, light switch plates, pots, shelves, tables, gourds and other objects
Dioramas, three-dimensional miniatures or life-size scenes
Dollhouse miniatures
Drawer liners
Encaustics
Envelopes
Flower pressing
Folders
Framing mats
Gift tags
Gift wrap
Gold leafing or leafing with other metals
Iris folding, a paper craft technique that involves folding strips of colored paper to form a design of which the center is iris-shaped
Jewelry making
Kirigami, the art of folding a sheet of paper and then cutting a pattern to reveal a silhouette
Kite making
Lampshades
Mask making
Mixed media
Mobiles
Note cards
Oil pastel – Picasso drew on everything; so can you.
Origami (折り紙, (from ori meaning "folding" and kami meaning "paper"), the traditional Japanese art of paper folding
Packaging for festive parcels
Papier maché
Photo albums
Placemats and table runners
Resin castings
Scanning for computer backgrounds
Scrapbooking
Screen dividers
Screen print
Sculpture
Sew it just like fabric
Soft pastel
Stamping
Tree decorations
Wall decoration, frame and hang as art
Wall paper
Weaving
Wedding announcements
Window screens