Here are reasons we think art is essential for everyone and why you should start art.
Everyone can start art
Create balance and harmony in your life. Creating is a joyful act, playing with colour reduces stress, and busy hands can be a welcome distraction. Remember the joy you got as a kid as you played with clay, and discovered painting and drawing? Take some time for yourself and capture that happiness again. Best of all? No teacher is telling you you're "doing it wrong"!
Creative minds are never bored. Do you really want to spend all of your evenings watching TV? Art projects make a great after-school or after-work activity. Challenge yourself to try something new to keep your mind active and impress your co-workers with that painting of the entire cast of Game of Thrones you did. Remember, creativity creates more creativity.
It is a fun social activity. Take an art class with your spouse and create original artwork for your home. Invite friends over for an arty party and create projects together. Share laughter in your collective inexperience or gather more creativity and inspiration from your talented pals.
It bridges the generation gap. Grandparents can create heirlooms with their grandchildren. Plan an afternoon of creative activity. It is the perfect way to spend time together creating memories and sharing laughs.
Add a tactile activity. Get in touch with the handmade again and unplug from the virtual world. Experiment and play with real materials, and discover the satisfaction of creating something tangible. The spinoff effects of improved creativity will surprise you.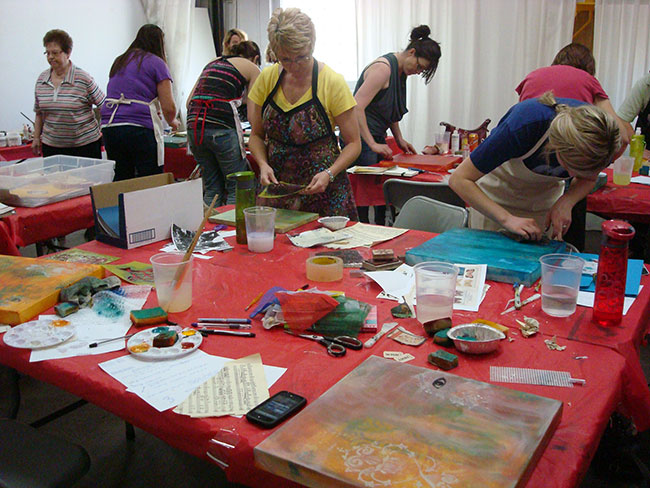 Choosing supplies is easy, ask for assistance
Consider giving the gift of art. Treat your experienced or budding artist to a selection of art materials. At The Paint Spot, we are happy to custom-build an affordable kit of beautiful materials to suit the creative person on your list and let them express their imagination.
Our classes are perfect for beginners
Our classes are perfect for scared stiff beginners who have always wanted to try art but don't know where to start. We will cover the basics with informal demonstrations and fun projects. You're just getting started and we're here to help. Participants are encouraged to bring whatever they have for brushes, paints, (watercolour, oil, or acrylic), and some paper or canvas. View this season's Art Classes in Artelier Studio
For more information, please contact us.
---
© Kim Fjordbotten (January 2013) As the owner of The Paint Spot, Kim Fjordbotten is passionate about helping artists use materials and make art. She is available as a speaker and educator for teachers and art associations.