How can I find time for art within my busy schedule? Where does one find time for activities and things we are passionate about? It is a struggle for every person to find time for creativity in their busy life.
Work, school, family and friends, and all the other priorities we juggle daily offer enough excuses for procrastinating about making art. When I came across several lists of "10-minute Household Chores" I realized two things. First, housework might be less time-consuming if tackled a little at a time. Second, some people have crazy expectations for the perfect home.
"Guilt is a load of bricks; put them down." It is my husband's favourite quote (from the movie Devil's Advocate): Be ruthless with how you use your time. Make lists to help you prioritize and schedule your time. Then take a moment to cross off what is not important to you and delegate them to others by asking for help. Guilt will not help you find time for art.
Take time for art
Here are 10 tips that motivated me to use my time more creatively and do something art-filled at least twice a week. At the bottom of this article are ten '10 minute art activities.'
1. Newton's Law is right. Bodies in motion stay in motion; bodies at rest nap on the couch. It is important to take small breaks during art-making in order to keep eyes fresh and objective; to prevent overworking details in a painting; and oddly enough, to keep focused. So, I say, 'Yes, I will tackle a 10-minute chore during these breaks.' Then, when I go back to my art, it will be like a reward and I will feel less guilty about the quality time spent with my muse on art processes.
Find inspiration
2. Turn off the TV. Turn on the music. We are visual thinkers; we don't need visual distractions. Podcasts and the Sonza App for smartphones are great for helping select music to set the mood. TikTok, Instagram, and Pinterest are great sources but they're also a massive distraction. Dopamine's rush can trick our minds into thinking we are actually doing something enjoyable. In reality, we may be missing out on doing the enjoyable and rewarding activity of making the project ourselves.
4. Join an Art Association. There are many art societies seeking new members, and beginners are always welcome. Attend various meetings before making a decision on which group to join. Meet the members. Learn about their projects, workshops, and opportunities. Be ready to volunteer where you can. Many hands make light work.
5. Visit Galleries. See what's going on and what other artists are doing. Sometimes a simple brushstroke, a colour scheme, or subject matter may spark a thought you can develop further. Remember, copying from only one source is stealing. Copying from several sources is good research. It's how we combine ideas and present subject matter as well as a choice of techniques and materials that will make our art unique. The possibilities are endless.
7. Take an Art Class. Read our previous blog note. Take a class at Artelier Studios
Make it convenient
3. Carry art supplies with you wherever you go. Keep it simple: Watercolour pencils, a pocket brush, a sketchbook, and a couple of good markers can fit into a purse or jacket pocket. Life provides many situations where we may find ourselves waiting for others. Coffee shops, doctors' offices, and lunch rooms are just some of the places where we can steal time for a little sketching.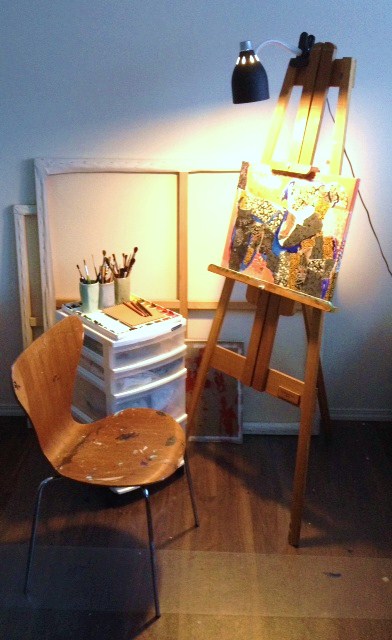 6. Make space for art. Everyone needs a little a space to work, and it doesn't have to be a big space if you scale your art to fit your space. The important thing is that your art supplies need to be out and ready to use. Work-in-progress needs to be seen and contemplated. Here is an example.
Make it a priority
8. Less Sleep = More Time Turn off the snooze alarm. We will regret a lot of things in our life but I bet none of us will say, "Gee, I wish I'd slept more when I was younger." Some prolific artists have worked at The Paint Spot. When I asked them their secret they replied, "Who needs sleep?" Warning: if you are still in school, you may not believe that many of us remember fondly the all-nighters spent finishing projects for our portfolios. Sigh, those were great times. Yes, it was good to discover I could be creative even under pressure with impossible deadlines. Productivity and creativity come at the oddest times – usually when I have a lot of conflicting deadlines.
9. Deadlines are motivational, so setting goals on the calendar can help you find time for art. I have five art deadlines every year: the annual staff show; The Whyte Avenue Art Walk; the fall and winter workshop seasons; and I try to make a painting for a different family member every year. Of course, it's not just five pieces of art. There are many drawings and sketches leading up to the actual artwork. There are also a few disappointments that get abandoned. Sometimes these abandoned challenges start to pile up. They can lead to frustration, self-doubt, and procrastination
10. Just do it! Lastly, there is only one way to tackle procrastination and find time for art. So much has been written about time management but it really boils down to this… Just do it.
10 minute art-activities.
Luckily art can be created with just a few minutes set aside each day. Here are 10 quick art activities that don't require much thought or planning but doing them may kick-start the good habit of working on art. So, as you step into your art space (even if it is just a mental space) here are some quick ideas to help you face the blank canvas or new sketchbook.
Randomly cover a page with colour
Pick two colours and mix the together
Doodle on an entire page
Organize your reference materials into potential projects
Create thumbnail sketches
Cut old paintings into postcards
Prime or paint over some old boards or canvases
Clean and repair your brushes
Sculpt a monster out of clay
Sketch the first thing you see

© Kim Fjordbotten (December 2014) As the owner of The Paint Spot, Kim Fjordbotten is passionate about helping artists use materials and make art. She is available as a speaker and educator for teachers and art associations.