Beth Pederson – Yesterday's Everyday exhibition Runs Thursday, December 9, 2021 – Sunday, January 16, 2022 at the Naess Gallery at The Paint Spot.
Beth Pederson – Artist statement
My work takes inspiration from my surroundings and the beauty I find represented in everyday objects.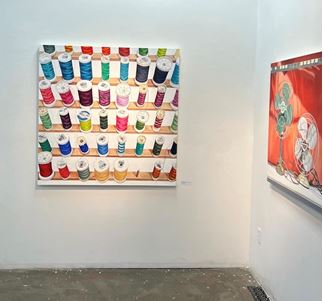 For this exhibition, Yesterday's Everyday, I chose to focus on vintage and antique objects. I was drawn to these objects because of their craftsmanship, colour, and character. These objects also embody a different time when people lived slower-paced lives and had the ability to repair their own clothes and fix their own farm equipment.
This work symbolizes times past and lost independence; a stark contrast to our present-day lives, where if something breaks, we throw it away because we do not know how to fix it. It is often cheaper to buy a new appliance or device than have it repaired.
I find that objects from previous eras are not only built better but are often more interesting to observe. Older objects are more resilient and long-lasting compared to most of the newer items that we buy today, that consists mostly of plastic. Because these vintage items are made with better materials, in most cases they still work, unlike electronics and appliances that we now buy that often need to be replaced in 10 years.
Although these objects are primarily utilitarian, the craftsmanship, artistry, and care with which they were designed and created still capture yesterday's everyday.
Beth Pederson – Artist biography
From an early age, Beth enjoyed painting, drawing and creating things with whatever she found around her. Later in high school, Beth became interested in
studying Fine Art and began her studies at MacEwan University where she earned a Fine Arts Diploma. Beth was determined to continue her studies and
transferred to NSCAD University (Nova Scotia College of Art and Design) where she received both a Bachelor of Fine Arts and a Bachelor of Design.
Since graduating from NSCAD, Beth has continued to work as a practicing artist and has exhibited predominantly in the Edmonton area. Beth has participated in several group shows in Edmonton and St. Albert, at both commercial galleries and artist-run-centres. Her work is in many private collections in Alberta and is also in the public collection of the Alberta Foundation for the Arts.
For more about Beth Pederson, visit:
Website: www.bethpedersonart.com
Instagram: @cbethpedersonart
---
Naess Gallery
10032 81 Avenue | Phone: 780 432 0240 | Email: accounts (at) paintspot.ca
Named for Sidsel Naess Bradley, The Paint Spot's founder. who recognized the need for spaces that promote the exploration of artistic ideas and innovative processes. We are extremely proud of this heritage and its contribution to the development of many artists. Naess Gallery continues to be inclusive, encouraging dialogue among artists and visitors. We welcome proposals for exhibitions that push materials, techniques, subject matter and conceptions.
In planning the Exhibition Year, we will be inviting artists whose practices we admire to exhibit their new works. It will be a year to revisit artists who have shown in the Naess Gallery in the past and to reveal new artists as well. We are going to see an exciting and enriching program of shows! If you have questions about the Naess Gallery or its exhibition program, please ask Kim Fjordbotten phone 780 432 0240.
Up next in the Naess Gallery – Figurative show
Previous exhibition – Dave Thomas
See more artists' interviews.