Living Water
The Darren Woluschuk exhibition Living Water runs January 6 – February 21, 2023
An exhibit of four drawings using Charcoal, Conté, Pastel, and Ink.
Darren Woluschuk: Artist Statement
Some German scientists have been studying that water has memory.
Being fascinated with this idea, I decided to toy with a quote that Jesus said, "He is the living water."
I wanted to draw out images from my imagination upon reading scripture and have them form into one another in a fluid manner.
When all four images are joined in a certain manner, the face of Christ is revealed as a whole. Can you see it? (see below).
Darren Woluschuk: Artist Biography
Darren Woluschuk has been creating works of art for 30 years.
He started painting with oils at the age of 18 when his grandmother sent him all her supplies and notes as a Christmas gift.
Woluschuk's paintings are still life, abstract, and surreal. Most of his works these days are mixed media.
Born in Edmonton, Alberta, he resides and works out of his studio there.
He follows a simple creed: "It must move my Spirit!"
Website: woluschuk.com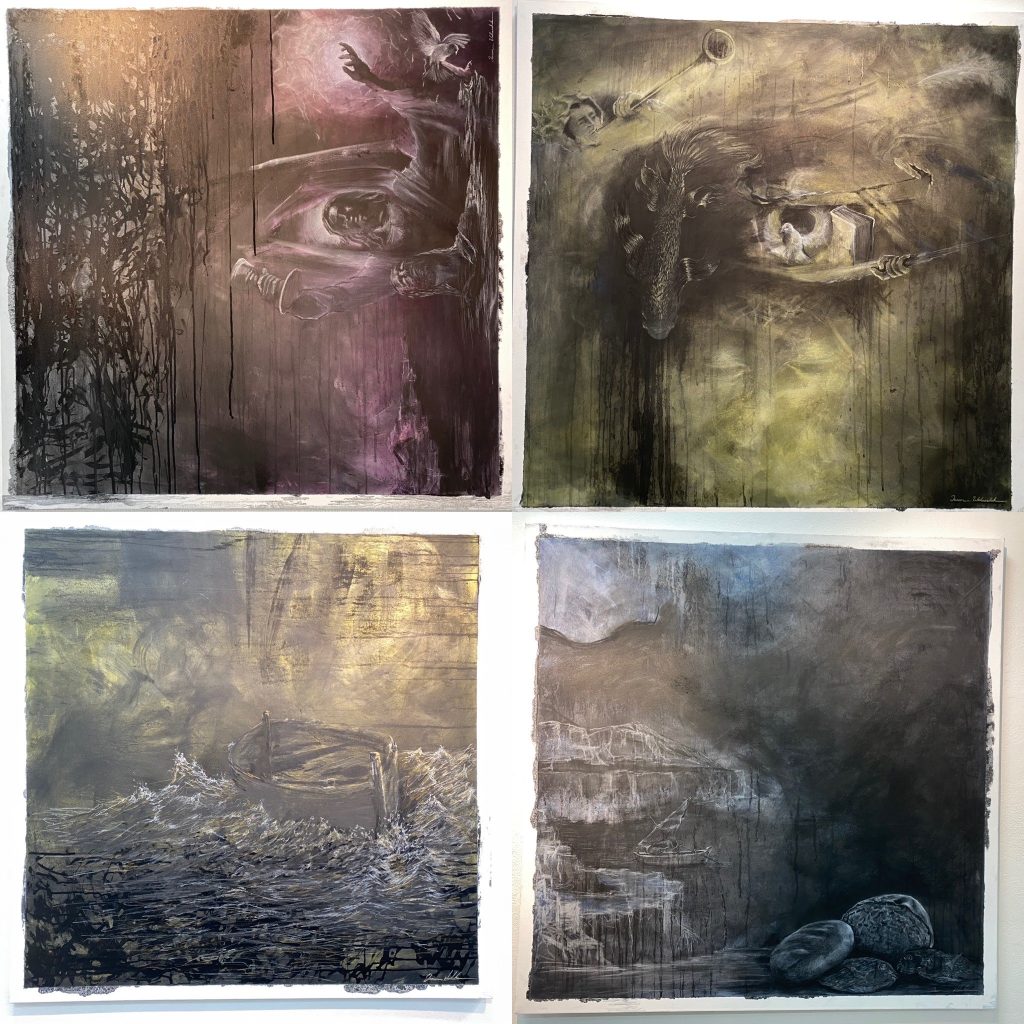 ---
Naess Gallery
10032 81 Avenue | Phone: 780 432 0240 | Email: studio (at) paintspot.ca
Named for Sidsel Naess Bradley, The Paint Spot's founder. who recognized the need for spaces that promote the exploration of artistic ideas and innovative processes. We are extremely proud of this heritage and its contribution to the development of many artists. Naess Gallery continues to be inclusive, encouraging dialogue among artists and visitors. We welcome proposals for exhibitions that push materials, techniques, subject matter, and conceptions.
In planning the Exhibition Year, we will be inviting artists whose practices we admire to exhibit their new works. It will be a year to revisit artists who have shown in the Naess Gallery in the past and to reveal new artists as well. We are going to see an exciting and enriching program of shows! If you have questions about the Naess Gallery or its exhibition program, please ask Kim Fjordbotten phone 780 432 0240.
See what's new at the Naess Gallery, or be inspired by past artist talks.