The Tim Mikula exhibition ABLegGiftShop ran at the Naess Gallery at The Paint Spot from Jan. 6 – Feb. 16, 2021.
Tim Mikula – artist statement
The ABLegGiftShop chronicles the surreal cast of characters and the state of affairs in contemporary Alberta politics. It began with the Kijiji sale of a haunted portrait of Jason Kenney accompanied with a lurid prairie gothic ghost story, and quite frankly spiraled out of control after that. The ongoing project produces a piece every week. It was featured in Vice Magazine in February 2020 (the before times).
I'm unsure if an expressionist abstraction on canvas of the weekly microscandal that gets the most retweets is a narrative salve to the delirious punishment of the 24-hour news cycle or just another vile agent in the post-truth madhouse that is modern discourse. But what I can promise is that the ABLegGiftShop is the only place to get 20 blistering square feet of a grimacing six-breasted Tyler Shandro nursing a mewling litter of Jeff Callaways.
As an artist my work explores permanence and impermanence. The ABLegGiftShop produces pieces that are quite literally yesterday's news before the paint has dried.
In which techniques do you mostly work?
Layering, brush on canvas, bold lines, wet rags and splatters to incorporate mistakes, and scraping cardboard across freshly laid colours in the idle hope of a pleasant surprise.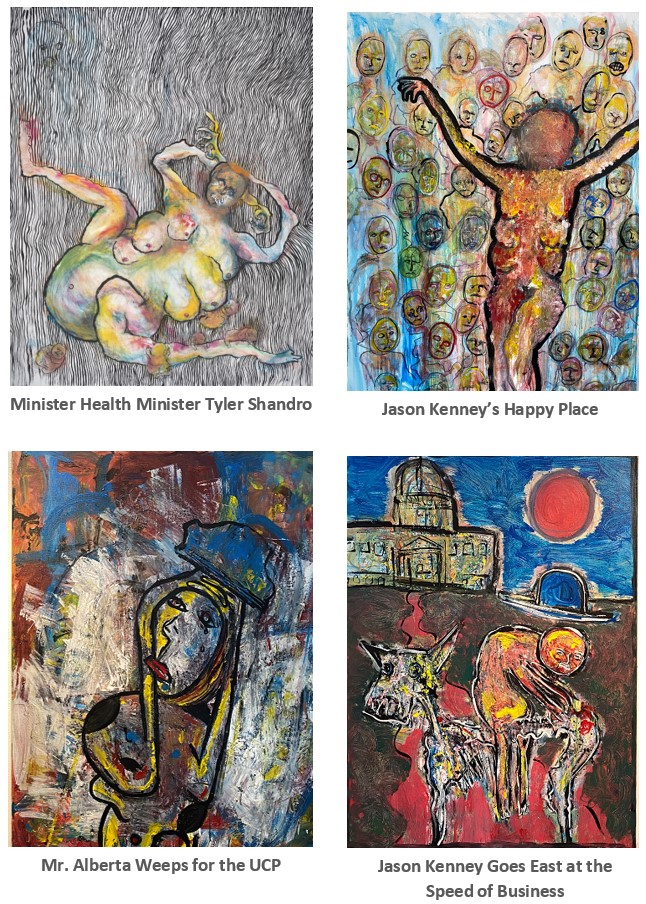 What inspires you? Do you have favorite subjects?
I love painting portraits. They still feel impactful despite living in a time when we have exponentially more pictures of ourselves than ever before. Putting time, effort, and resources into a depiction of someone else is the antithesis of a selfie. Painting a portrait of a selfie? Best of both worlds, baby.
I also like to paint politicians and public figures as a way to give permanence to the maddening non-linearity of current events.
What is your favorite medium? (Acrylic, oil, clay?)
Acrylic! It's cheap and plentiful. When it works, it works, and when it doesn't work at least you end up with a goopy grey ghost that swallows your canvas in a swamp of failure, living in the corner of your eye until it's dry the next day and you can start again. Not bad!
What art supplies can't you do without? Why?
Paint. Everything else is gravy. If all I had were my fingers and old pizza boxes, I think I could manage so long as I had paint. I draw the line at painting with gravy. Never again.
What social media access to you can we have?
Insta: @endlessportraitproject, @ableggiftshop
Twitter: @ableggiftshop
Where can we see your art?
On my socials, at https://www.ableggiftshop.com and the occasional gallery. Prints are available through my website.
Download and view exhibition booklet
All images and artist's statements are copyrighted by Tim Mikula. The use of any image or text from this site is prohibited unless prior written permission from the artist is obtained.
---
Naess Gallery
10032 81 Avenue | Phone: 780 432 0240 | Email: accounts (at) paintspot.ca
Named for Sidsel Naess Bradley, The Paint Spot's founder. who recognized the need for spaces that promote the exploration of artistic ideas and innovative processes. We are extremely proud of this heritage and its contribution to the development of many artists. Naess Gallery continues to be inclusive, encouraging dialogue among artists and visitors. We welcome proposals for exhibitions that push materials, techniques, subject matter, and conceptions.
In planning the Exhibition Year, we will be inviting artists whose practices we admire to exhibit their new works. It will be a year to revisit artists who have shown in the Naess Gallery in the past and to reveal new artists as well. We are going to see an exciting and enriching program of shows! If you have questions about the Naess Gallery or its exhibition program, please ask Kim Fjordbotten phone 780 432 0240.
See what's new at the Naess Gallery. Find inspiration in the many artist talks.