Beautiful art materials are timeless gifts. Do you struggle when buying gifts for artists? Do you have an artist or maker on your list? Inspire their creativity with beautiful and practical materials. Did your Mom or Dad do art when they were younger but put brushes aside to work or raise a family? Perhaps now is a good time to nudge them back into painting. Do you have a friend or sibling who seems to always be making things for other people? Why not delight them with new art supplies? If you are not sure what to get them, our gift guides will give you some great ideas. (But honestly, it is with great restraint that we haven't put our whole shop in the guide!) Don't be overwhelmed! Here is what you need to know when buying art supplies for artists (and soon-to-be-artists):
1. Gift Cards cover it all
The only thing better than making art is shopping for art supplies (with other people's money!) So don't be shy about purchasing a gift card – they make great gifts for artists You can order ours online and pick from several designs. There is no need for stamps and nothing gets lost in the mail. You can choose to deliver them immediately or schedule them to arrive on a certain date. Your artist will use their gift card from their smartphone which means no bulky wallets. Order digital gift cards, or find physical cards here.
Artists love to experiment. Trust us! You could surprise them with just about any art material. Artists will be grateful and put the supplies to good use. All of us at The Paint Spot are Artists so pulling together cool and practical gifts is fun for us! Let us know your budget and we will create a special kit just for you. We can also recommend an appropriate workshop in the New Year. Ensure the person receiving art supplies is encouraged to use your gift right away.
2. A bouquet of brushes is a great gift
Our elves can help you pick out the perfect set for getting started. It is helpful if you can find out what media your artist works in: oil, acrylic, gouache, or watercolour. Then we can choose the right style of brush. Do they like to work large or do they prefer to focus on small, fine details? It will help us select the right size. Do they create smooth realism or is their work full of texture and brush marks? It will help us select the right type of hair. We also suggest that brush cleaner makes excellent stocking stuffers. Brush roll-ups are great for storing and presenting brushes.
3. Art classes are in full swing after Christmas
Art classes are in full swing after Christmas, including our three popular Getting Started Workshops: Acrylics, Oil and Watercolour. Designed for beginners who received art sets for Christmas, these classes will get them to open their supplies and use them right away. Plus they will learn tips for colour mixing, how to use paint brushes, and several basic painting techniques. The classes are just 2 hours and cost only $25.00.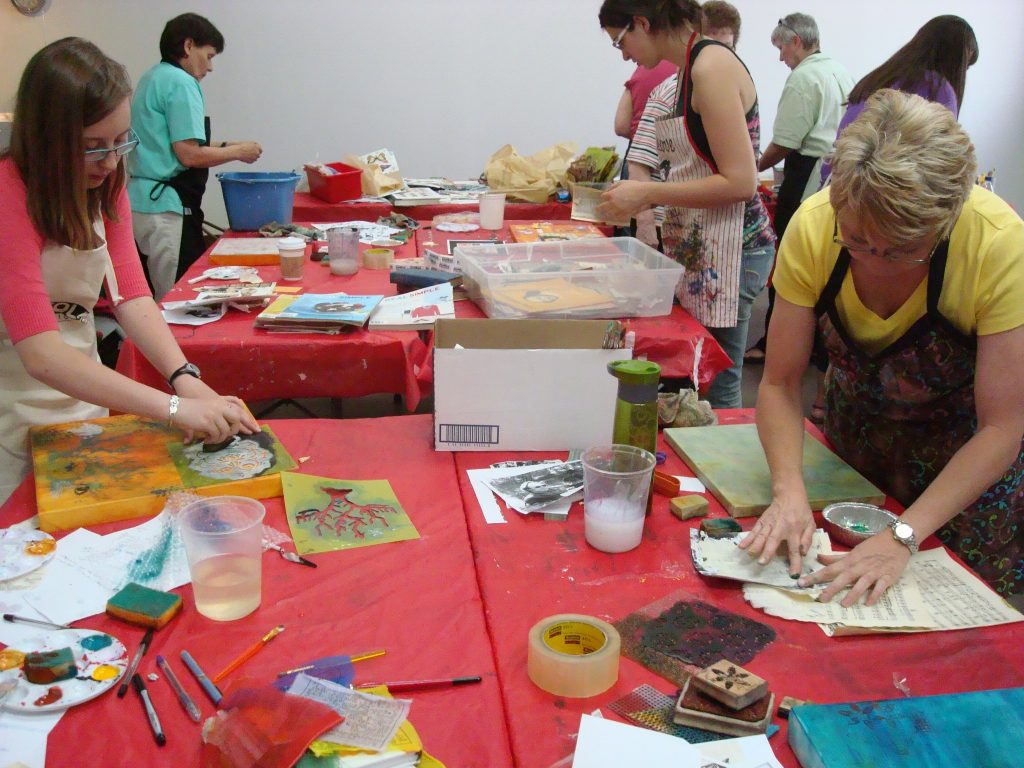 4. Don't worry about getting the wrong gifts for artists
The Paint Spot's return/exchange policy lets them pick a different easel or trade acrylics for oils. It is important to us that artists get exactly what they want. Ask for a gift receipt!