Description
Van Gogh Watercolor Specialty Selection Pocket Box
The Van Gogh Specialty Selection Pocket Box Set includes 12 metallic and interference colors in an elegant black plastic box.
This 12 Color Half Pan set includes a size 6 synthetic round brush, as well as a mixing tray. This watercolor pocket box fits well in the hand and is easy to take with you anywhere. The lid holds an easy-to-clean, removable white mixing tray with a large space underneath that can be used to mix washes when the tray is removed.
Colors:
Silver, light gold, deep gold, copper, bronze, graphite, interference white, interference yellow, interference red, interference blue, interference violet and interference green.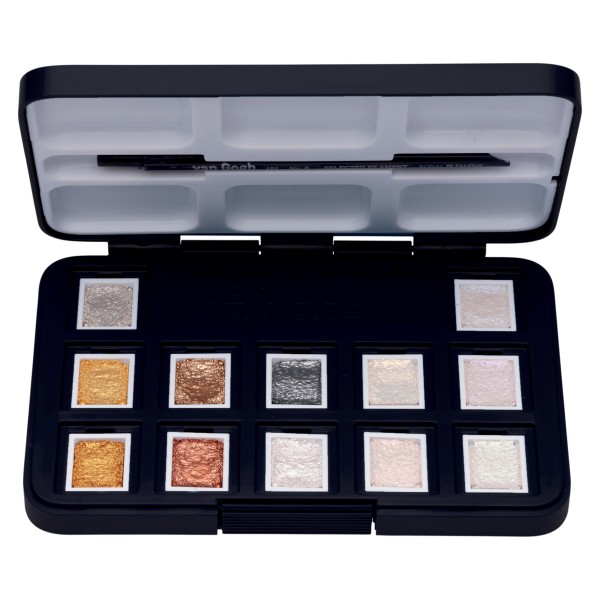 Details:
12 colors
Compact box set
Great for travel
Excellent color intensity
Pigment fineness results in clear, rich colors
Easy to handle
Van Gogh watercolors are rated as a student and artist level paint range. They feature brilliant, transparent and intense colors with high tinting strength. Most colors are rated with the highest degree of lightfastness +++ (100+ years under museum conditions) with a few colors rated just one step below at ++ (25-100 years under museum conditions).