Description
Finetec Premium Watercolor Sets
The FINETEC Premium watercolor collection consists of a variety of pearlescent, iridescent, metallic, Flip-Flop and neon colours, all made with premium-quality pigments for an even more intense gloss and astonishingly brilliant colours.  Finetec Premium Watercolours are perfect for creating special effects and highlights, they are also ideally suited for calligraphy. Handmade of extra fine mica pigments, these natural minerals are light-fast and non-fading.
Individual color replacement pans are also available.
The colours can be dissolved with water and mixed with each other to achieve different shades and they can be applied on all absorbent materials like paper, wood and other surfaces. Finetec Premium Watercolours are exclusively made in Germany and comply with CE standard.

F7001 Pearl Antique 6/set (Egyptian Cat)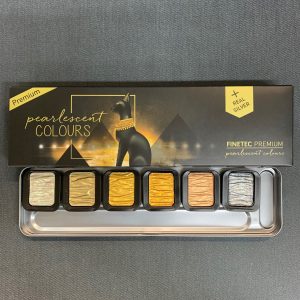 F7002 High Chroma 6/set (Snake)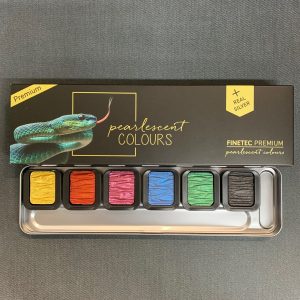 F7003 Pearlescent Flip-Flop 6/set (Pink Dragonfly)
F8001 Iridescent Sparkle 6/set (Octopus)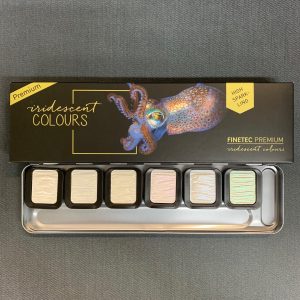 FN9000 Neon 6/set