Description
Van Gogh Watercolor Muted Colours Pocket Box
The Van Gogh Watercolor Muted Colours Pocket Box Set includes 12 half pans of watercolor, and a size 6 synthetic round brush, as well as a mixing tray. This watercolor pocket box fits well in the hand and is easy to take with you anywhere. The lid holds an easy-to-clean, removable white mixing tray with a large space underneath that can be used to mix washes when the tray is removed.
Colors:
This set includes one 5 ml half pan each of Titanium buff, Naples yellow red, Gamboge, Yellow ochre, Quinacridone rose, Olive green, Davy's grey, Turquoise green, Lavender, Indigo, Neutral tint and Sepia.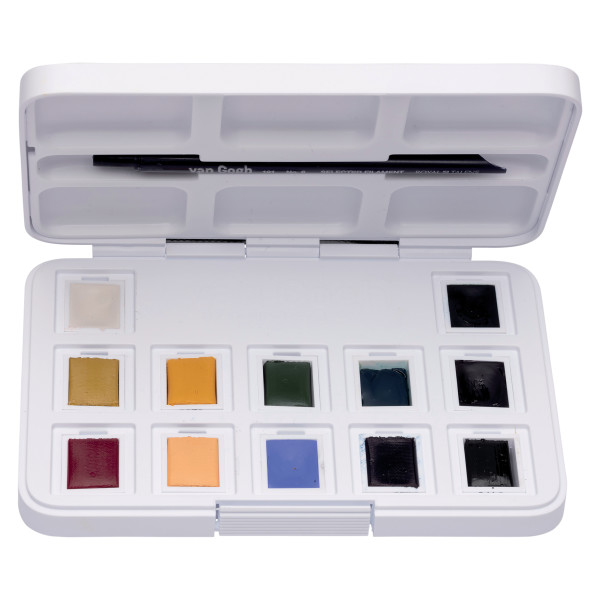 Details:
12 colors
Compact box set with Built-in mixing tray
Includes size 6 synthetic round brush
Great for travel
Excellent color intensity
Pigment fineness results in clear, rich colors
Easy to handle
Van Gogh watercolors are rated as a student and artist level paint range. They feature brilliant, transparent and intense colors with high tinting strength. Most colors are rated with the highest degree of lightfastness +++ (100+ years under museum conditions) with a few colors rated just one step below at ++ (25-100 years under museum conditions).