Description
Gamblin Etching Ink Opaque White:
Gamblin Etching White: An opaque white useful in creating tints. Pigment: Titanium dioxide (PW 6), zinc oxide (PW 4)
Vehicle: Burnt Plate Oil
Series 1, OPAQUE,  SDS
1 lb jar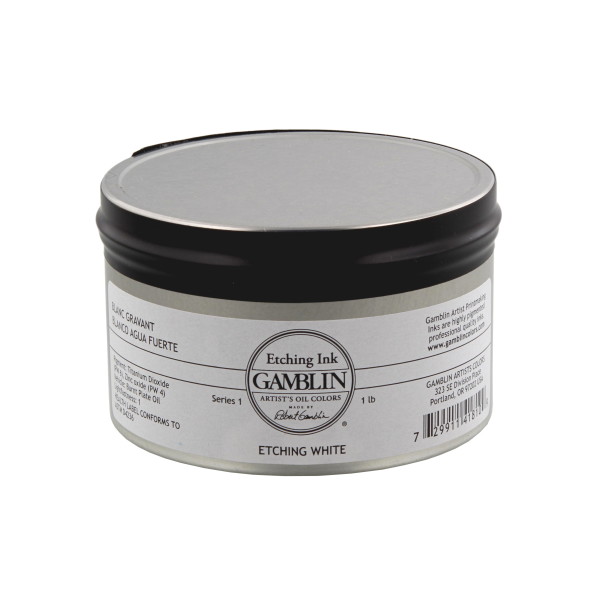 Gamblin Etching Ink was formulated at the request of professional printmakers in the Pacific Northwest who wanted a strong reliable ink for edition printing. This palette of pure, intense pigments offers an artist quality product as well as a broad range of color mixing potential.
Gamblin Etching Ink is bound in the highest quality Burnt Plate Oil.
Depending on the printmaking technique, you may need to add a Gamblin modifier (below) in order to print perfectly. Temperature as well as humidity, the type of plate, and type of paper all affect how inks perform.
Gamblin Burnt Plate Oils lower the viscosity of Gamblin printmaking ink. Burnt Plate Oil should be added to inks sparingly, because the detail of a print may be lost if the ink becomes too fluid. Burnt Plate Oil #2 (SDS) has a higher tack than Burnt Plate Oil #000 and is the primary binder for Gamblin Etching Inks.
Because Tack Reducer is a gel made from a very light drying oil, it is completely compatible with the inks. Small amounts added to ink will efficiently reduce tack. Tack Reducer is transparent and allows the intensity of an inks color to be maintained. SDS
Magnesium Carbonate is traditionally used to stiffen ink, but it will also reduce an ink's gloss level. Because Magnesium Carbonate becomes transparent once added to ink, it will not alter the color of the ink. You should only add small amounts at a time, because only a little is needed to add body to an ink. Mix well. It can be used with both Etching and Relief Inks. SDS
Gamblin Gamsol is the safest 100% pure odorless mineral spirit available. It enables printmakers to easily modify inks and is great for studio clean-up, as well as eliminating the need for stronger solvents.  SDS
About Gamblin Artists Colors
Dedicated.™
At Gamblin, our mission is to lead oil painting and printmaking into the future. To us this means crafting materials as they ought to be, not just as they have been. Our luscious colors and contemporary mediums are true to historic working properties, yet safer and more permanent.
If you have any suggestions or questions, please contact us. And if you're ever in Portland, please look us up. We'd love to see you.
Brand Promise | The Gamblin Guarantee
We will deliver the right product for your work at an honest price. We're painters too. Count on us to put our heads, hearts, hands and everything we've learned into everything we do.
We promise to be kind to you, the team of people here at Gamblin, and the planet we share.
We promise to inform and inspire you, just as your work and ideas inspire and inform us. And we're always here to help you bring your best self to your biggest painting challenge.
Gamblin materials should feel good from the first squeeze down to the last pour. If you ever feel like something isn't perfect, we want to hear from you and we will make it right.
We promise to never stop moving painting forward. If there's a better way, we will find it. We always do.
Always forward. Together.