Description
Stoneground Watercolour Prussian Blue
Stoneground Prussian Blue is a dark valued, cool blue more muted than Phthalo Blue and more green than Indanthrone Blue, with a granular quality.
The first modern synthetic pigment, Prussian Blue became the first stable and lightfast blue pigment to be widely used in oil and watercolour paint in the 18th century. Prussian Blue quickly proved to be more stable than copper-based blues, such as Azurite. It is also more versatile than Indigo, and more affordable.
Artist Notes: Combine Prussian Blue with Gamboge for a natural green similar in tone to the original Hooker's Green.
Available in half pans.
Prussian Blue is also available in the following Stoneground palettes: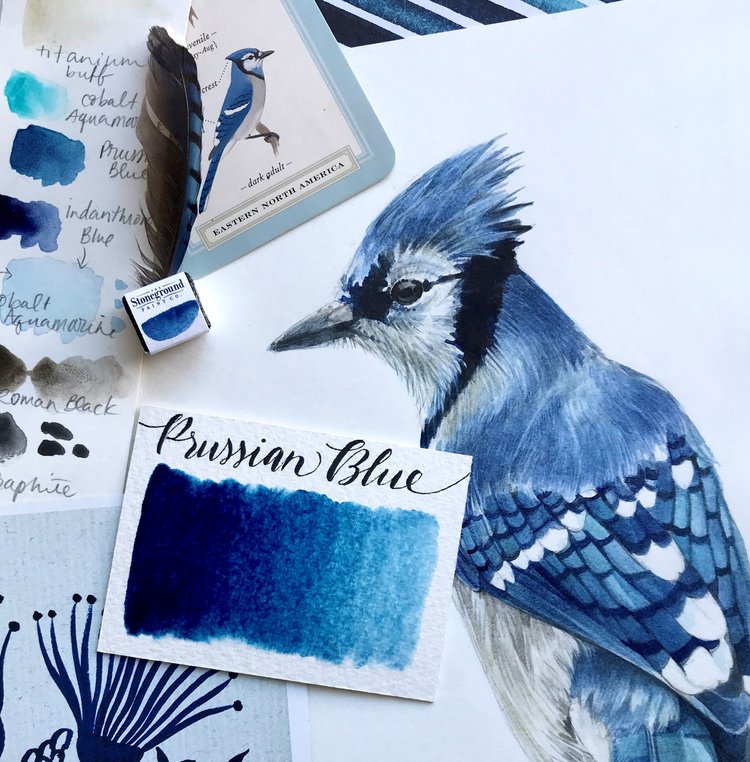 Details:
Lightfast

Permanent

Non Toxic

Semi Staining

Semi Granular

Semi Transparent

Pigment Number: PB27
About Stoneground Paint Co. Watercolours:
The Stoneground Paint Co. crafts its watercolour paint by combining finely ground particles of pigment with a binder made from water, gum arabic, and wildflower honey. Watercolour paint is an artist's medium noted for its transparency and the wide range of effects which can be achieved with its use. A range of pigments from modern to mineral, traditional to pearlescent, are used in the creation of their handmade paint offering watercolour artists an array of vibrant colours to choose from.
Looking for more inspiration? Check out Stoneground's Instagram here!