Description
Ukrainian Easter Egg Dye Sets
These dye sets contain easy to use dyes for decorating Ukrainian Easter Eggs. Simply add 1 1/4 cups of boiling water to one package of Easter Egg dye. For best results, use distilled water. Add one tablespoon of white vinegar. Cool before using.
Set contents:
Traditional Colour Set includes: Yellow, orange, scarlet, light green, as well as black. Non-edible dyes.
Contemporary Colour Set includes: Yellow, light blue, pink, turquoise, as well as purple. Non-edible dyes.
Also available in larger sets. Find the rest of our Ukrainian Easter Egg dyes, kits and supplies here.
Watch this video to see artist Oksana Zhelisko demonstrating the process: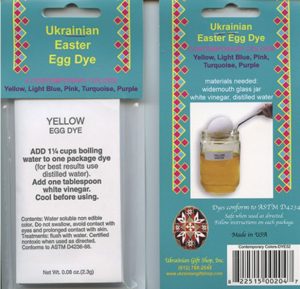 Find Ukrainian Easter Egg Design Books here.
Find our selection of Ukrainian Easter Egg decorating supplies and dyes here.
About Ukrainian Easter Eggs
Pysanky are traditional Ukrainian Easter Eggs which are decorated using dye that is applied in layers. Melted beeswax is applied as a resist using kisty tools, in order to create beautiful, colorful and intricate patterns.
The art of decorating Ukrainian Easter Eggs has been handed down in the Ukraine for generations. Ukrainians are famous for their beautiful, intricate, and colorful Pysanky. More than 2000 years ago, eggs were decorated by people who believed that an egg embodied special powers. Eggs symbolized the release of the earth from winter and the promise of new hope, life and prosperity of spring. After Christ, Easter eggs began to symbolize the Resurrection and the promise of eternal life. Legend says that as long as pysanky are decorated, good will win over evil.