Description
Ruby Red metallic face paint is water based, hypoallergenic, vegan, FDA compliant as well as paraben free. All materials in this product are formulated to be friendly to the most delicate skin and are also fragrance free. Because they are water based, they are as easy to get off as it was to put them on. There is no need for scrubbing or harsh removers that may irritate sensitive skin. You can easily remove Ruby Red face paints with soap and water.
Ruby Red metallic face paint colours will help face and body painters create special effects to simulate the effects of metal. Ruby Red Face and Body Paints are inter-mixable. Combine metallic colours with pastels or darken with dramatic earth tones to create a wide range of custom face colours.
Each colour is packaged in a durable and reusable container filled with 18 ml of paint. A small 18 ml cake of face paints will easily paint over 100 full faces.
Gary Cole, a well-known face in the industry has introduced a new line of vegan face paints in Ruby Red Face and Body Paint. Vegan body paints are free of lanolin, carmine and animal byproducts, and have not been tested on animals. These products an excellent solution for animal conscious families, individuals and organizations interested in face painting for recreational or fundraising purposes.
More Information, Tips and Videos on Ruby Red Face Paints
2 ml Refill Colours of Ruby Red Face and Body  Paints
18 ml Colours of Ruby Red Face and Body Paints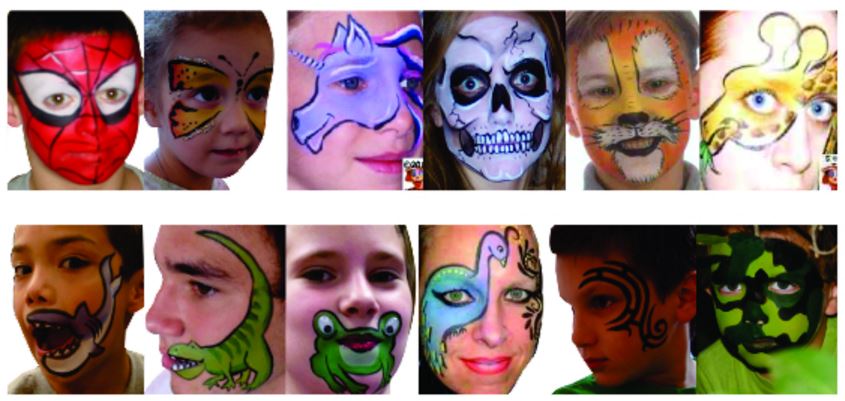 About Ruby Red Face Paint:
A small 18 ml cake of face paints will easily paint over 100 full faces.
Ruby Red Face Paints are sold in cake form and are water activated. When you first open it, you can press your finger slightly into the semi-moist product. In order to use it, add a few drops of water to the cake with a sponge or brush. With a little mixing, you will get a nice, creamy, rich colour. Ruby Red Paints are heavy in pigment content and have wax and other binders to hold them together which provides easy application. The professional artist and face painter will love Ruby Red Paints because of their bold colours and smooth blending.
Use a sponge applicator to get great paint coverage on the face, and then pat with a sponge to get an opaque base on any complexion. You can achieve smooth lines and details using a good artist's brush and proper color mixing. The paint will dry to the touch in under a minute and can be worn all day.
Parents want safe products as well as an easy-on, easy-off application. One drop of shampoo and some water will take off any colour.
Ruby Red Paint is the result of a 25+ year career in the cosmetics field and a Guinness World Record holding face painter. Ruby Red Paint offers the safest face paints with a child toy safety rating. Vegan, Paraben free and made in the USA.
All Ruby Red products are hypoallergenic, FDA compliant, paraben-free, and made in the USA, in addition to being cosmetic and child toy safety rated.