Description
Produce Stunning Professional Quality Prints With These Vibrant, Premium Relief Inks!
Speedball Professional Relief Inks are designed specifically for professional level printmakers. These premium quality relief inks offer viscosity similar to that of oil-based inks, rolling out consistently, transferring beautifully, and holding fine details to produce intense, crisp, archival quality prints. Extend the color range by combining these inks with Extender to produce transparent layers. With a water-miscible oil base, these true process relief inks are lightfast and easily cleaned up with a little soap and water.
Key Features:
Designed for accomplished printmakers
Produces intense, crisp, archival quality prints
Holds fine details with beautiful transfer quality
Water miscible oil base makes for easy clean up
Perfect For:
Professional printmakers
Block printing
Student artists
Linocut printing
Also available: Limited Edition Print Posse Relief Inks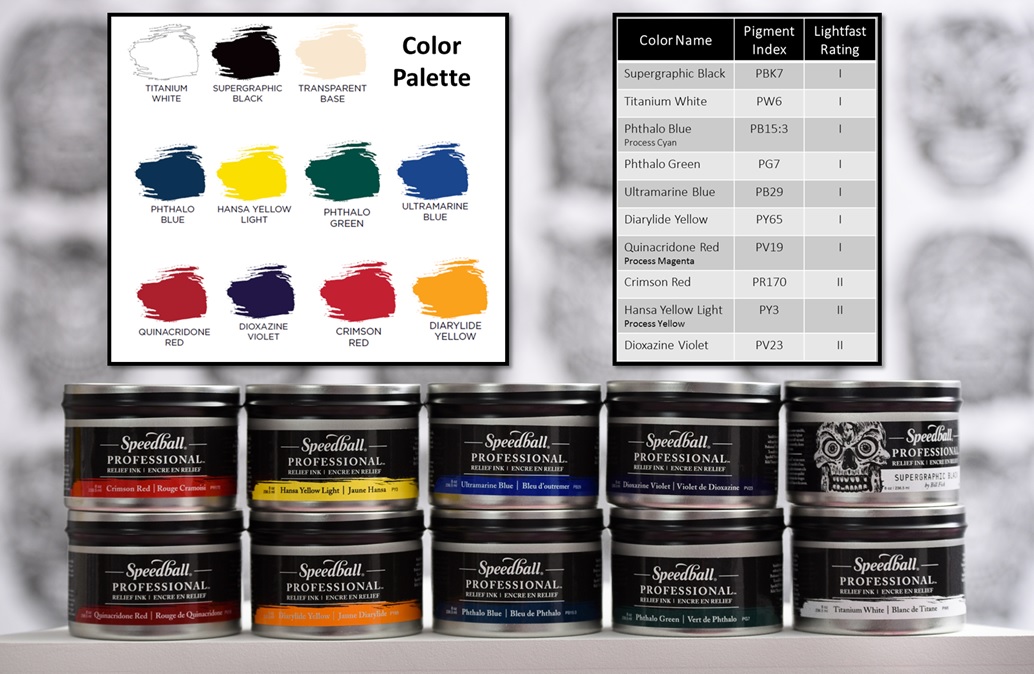 NO ILL EFFECTS- a linocut print by Bill Fick
Printmaker Bill Fick takes you through the making of an exclusive print for Speedball, NO ILL EFFECTS, featuring Speedball's New Professional Relief Ink and Arnhem 1618 printmaking paper. Inspired by classic tattoo imagery this print takes a darkly humorous view of the human condition. A skull calmly smokes a cigar while not showing any ill effects of a vicious snake passing through it's jaw and eye socket – perhaps this is due to the skull no longer being chained to the fears and anxieties experienced by the living.