Description
Pixel Art Tote Bags
Featuring iconic masterpieces and artists, these Pixel Art Tote Bags from Today is Art Day are sure to inspire your creativity at home or at the office. Each tote bag features a different iconic painting, rendered in pixel art. The back of each bag is a solid color, pulled from the painting, with the Today is Art Day logo in the bottom corner. These bags make a fantastic gift for an artist friend or yourself. These slip bags will carry a 12″ x 16″ sketchpad, art supplies, or your sketchbook, and more.
Details:
Dimensions: 13.5″ x 17.5″
Material: Canvas
Care instruction: Washable. Dry flat.
Artist Bags:
Frida Kahlo – Self-Portrait, Dedicated to Dr. Eloesser
Sandro Botticelli – The Birth of Venus
René Magritte – The Son of Man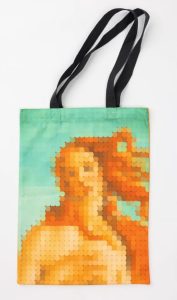 Monet Totes:
Claude Monet – Japanese Bridge Over a Pond of Water Lilies
Claude Monet – Woman with a Parasol
Claude Monet – Water Lilies