Description
Schmincke Norma Blue is a new artist quality water-soluble oil paint. This paint is water-soluble, environmentally friendly and vegan. This beautiful Norma Blue wooden box set includes 11 x 35 ml tubes, as well as various painting accessories. The elegant wooden box also includes a wooden palette, 2 da Vinci paint brushes, a metal solvent cup and a thick vine charcoal stick for laying out your composition. 
This set is perfect for water-mixable oil painting. It contains everything you need to get started with this new, low odor and solvent free artist oil paint. The 11 colors included allow for many brilliant color mixtures.
Included:
35ml Colors: Titanium White, Lemon Yellow, Cad Yellow Hue Lemon, Indian Yellow, Cad Red Hue Medium, Madder Red, Ultramarine Blue Light, Prussian Blue, Chrom. Oxide Green Brilliant, Natural Light Ochre, and Mineral Black.
Wooden palette 8″ x 11.5″
2 da Vinci "Nova Blue" short handle synthetic brushes (Flat 6, Filbert 8)
Metal solvent cup for oil mediums
1 x thick vine charcoal stick
Wood Box Set Details:
Size: 35 ml tubes
Formulated with vegetable oils, no use of cobalt, cadmium or zinc oxide pigments
Low odor: making it ideal for indoor spaces and teaching purposes
Allergy friendly: No preservatives
Vegan and eco-friendly
Developed with proven Schmincke NORMA Professional quality
Highly pigmented and extremely lightfast
Buttery consistency with characteristic oil working properties
Low yellowing
Good water absorption
Product # 71 750 097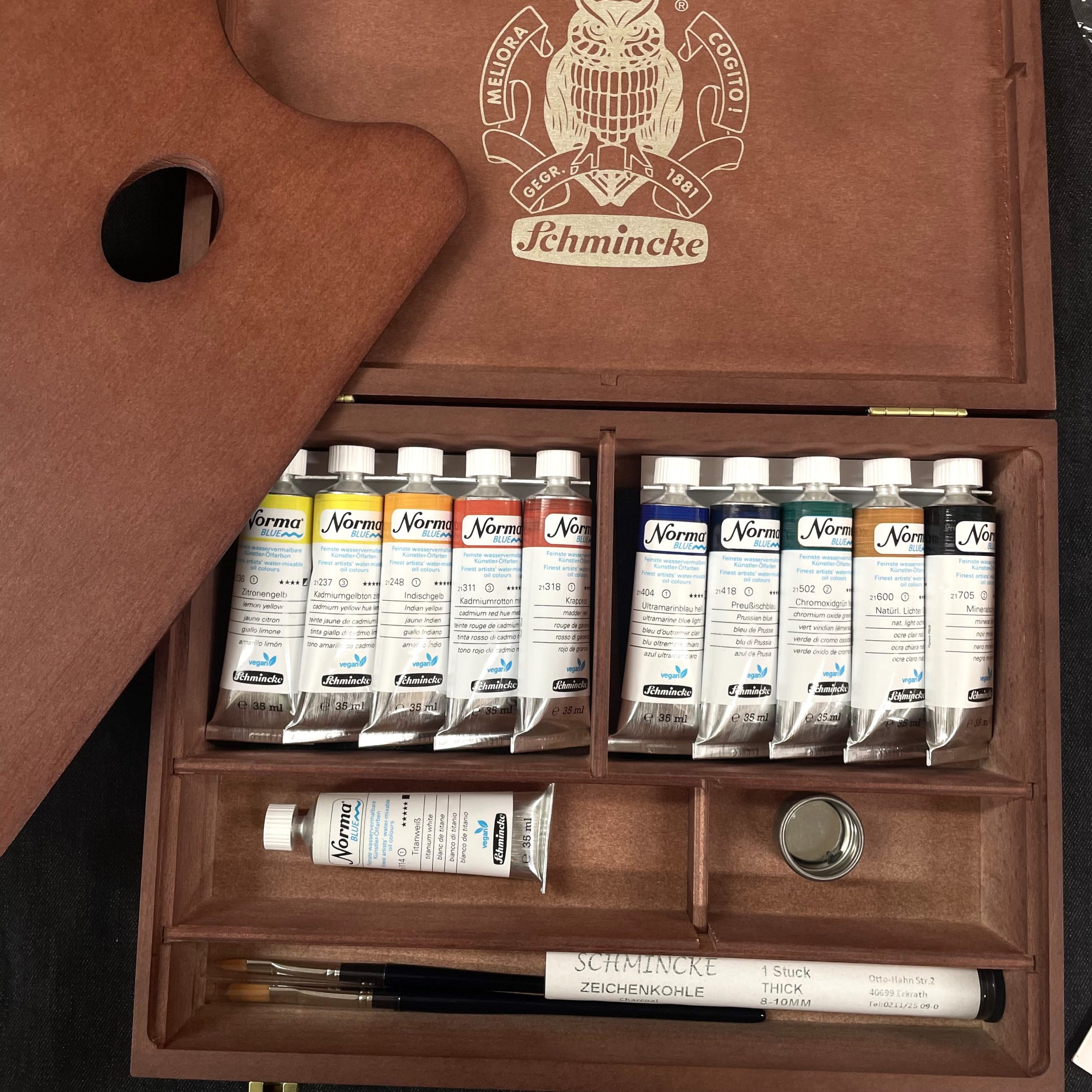 Read more

NORMA Blue water soluble oil paint allows for almost odorless painting. By not using solvents, it is ideal for painting indoors without your own studio. The brilliant, high quality colors make you want to paint in oil. They are uncomplicated to use, easy to clean and also vegan. They contain no preservatives and are therefore allergy friendly. As a real oil color of the finest quality, NORMA Blue is also suitable for all oil painting techniques.

New creative uses

NORMA Blue is uncomplicated and can be used straight from the tube. The colors are applied pure, simply diluted with water or in combination with NORMA Blue mediums on canvas or oil painting paper. Clean your brushes, spatulas and palettes with just water and a little soap. Anyone who has experience with oil paints but would like to do away with solvents will be happy about the fine NORMA quality, as well as the increased environmental compatibility.

You can combine and mix Norma Blue with all your traditional oil colors. With a maximum mixing ratio of 4:1, the water-miscibility of NORMA Blue will still be retained.

Painting aid for water-soluble oil paints

NORMA Blue can easily be painted over with water and cleaned. Additionally, there are five special mediums that make painting with water-soluble oil paints even more fun. These have an accelerating or delaying effect on the drying time, can increase the gloss and transparency or are suitable as thinners to intensify the typical "oil feeling". A special linseed oil completes the range of NORMA Blue oil mediums.

Good to know: With the exception of the Blue medium, all the additives in this series can also be used with classic oil paints. Conversely, all NORMA Blue colors may also be used with classic oil painting mediums, but may lose the property of a water-miscible oil color.