Description
As the name implies, the Sienna All in One Pochade Box is designed to carry all the essentials for a day of plein air painting. The All in One Pochade Box has all the features of the regular Sienna pochade boxes, with some exciting new features as well.
The lid is held firmly in place at any angle, thanks to the lid adjustment arm. The lid will even go completely flat for watercolor painting. The pochade box includes a handy brush tray that can be stored on the back of the lid with magnets. The tray is ideal for holding wet brushes, palette knives as well as palette cups. It attaches on the right or left side of the box and is held in place with magnets during use.
The Sienna All in One Pochade box features three large storage compartments, as well as a wet panel storage compartment that allows you to carry two 9×12″ or 8×10″ painting panels. Additionally, it includes a paper towel holder, which can be hung on the front of the box to hold a standard roll of paper towels. See Operating Instructions here
Details:
Closed Dimensions: 14 3/4″ x 11 1/4″ x 5 1/2″
Storage compartments measures 3 1/4" x 12 1/4"
Net Weight: 6.8 lbs
Max canvas size: 17″ tall x any width
The all in one box has a palette area of 10" x 12"
and a maximum canvas height of 17"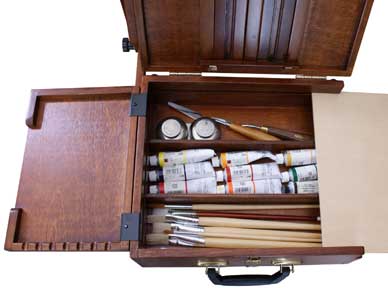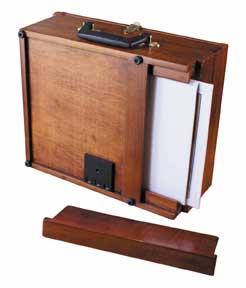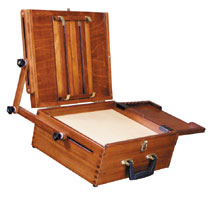 Storage compartments
The all in one pochade box has three storage compartments under the sliding wood palette that provides plenty of room for paint tubes, brushes, as well as other accessories. Each compartment measures 3 ¼" x 12 ¼" and can hold up to eight 40ml tubes of paint. Also, you can remove the compartment dividers to create one large storage area.
Panel storage
Another unique feature of the all in one pochade box is the wet painting panel storage compartment. Panels store securely and conveniently behind a sliding magnetic door. Now you never have to worry about how to transport your wet paintings.
You can carry two 9"x12" painting panels back to back or store two 8"x10" panels using the included adapter bar.
Strong Construction
This pochade box is built with strong finger joint construction using, poplar, maple, as well as Baltic birch components. A beautiful cherry stain and lacquer finish transform the components into pieces you will treasure for years to come.
Ergonomic Star Knobs 
You can control all adjustments of the canvas holders and lid angle arm with easy to adjust plastic star knobs. Superior to the common wing nuts found in many plein air easels, star knobs are easy to grip, resulting in tighter holding power.
Lid Adjustment Arm
The simplicity of the lid adjustment arm is what makes it so effective. Star knobs make adjustments easy and the lid can be held at any angle, including flat for watercolour. Also, the arm is designed so the box can be used on a flat surface as a table easel. Rubber bumpers are on the bottom of the box just for this purpose. In fact, the Pochade box is the perfect small easel for studio use as well as plein air.
Birch Wood Palette
Each pochade box includes a birch palette with a clear lacquer finish, ideal for use with oil or acrylic paint. The finish provides an easy to clean surface and the light birch color is also great for color mixing.
Canvas / panel holding clips
The pochade box can hold stretched canvas as well as painting panels using the unique Sienna Canvas/Panel clips. The holding clips keep your painting firmly in place and allow you to paint to the edge of your canvas.
Brush Tray
The included brush tray stows away perfectly on the back of the lid with the help of two magnets. During painting, it slips over the right or left side of the palette box, staying put with another pair of magnets. There are indents for seven brushes as well as a flat area for holding palette cups.
Plein Air Tripod Mounting Plate
A critical feature of the pochade box is the tripod mounting plate. A ¼" thick piece of aluminum 2 1/2"x2 1/2" accomplishes this, with a standard ¼ x 20 threaded hole as fastening point. The mounting plate attaches to the frame of the box with three stout screws. There is a large area for the ball-head quick release plate to grab onto and hold the box firmly in place on your tripod. (Tripod not included)