Description
The Sienna Plein Air Tripod with Ball-head is an exceptional piece of equipment. Sienna located one of the best tripod manufacturers in the world to find the perfect tripod and ball-head for plein air use. The Sienna Tripod is the perfect companion to your Sienna Plein Air pochade box or palette box.
The tripod support for your pochade box is the most important piece in a good painting system. It has to be strong, lightweight, rugged, and rated to support a decent amount of weight, the Sienna tripod excels in all these categories.
This 4 section tripod has aluminum alloy legs and magnesium alloy components which provide fast setup and the durability needed by plein air painters and professional photographers alike.
The tripod and included ball-head are individually rated to support 13.2 pounds (6 kg). This high load rating is critical to the stability of your pochade box while painting, as well as in windy conditions. You can rest assured that your Sienna tripod has the strength to hold up to both Mother Nature and You, the painter.
Ballhead
The Sienna tripod comes with a precision machined ball-head that ensures smooth and secure operation of your pochade box at any pitch and angle.  A patented, dual locking, dovetailed quick-release plate enables fast and secure mounting and dismounting, without having to worry about accidentally unseating the pochade box. The ball-head is controlled by a one-touch adjustment knob that allows for quick and precise positioning.
Carrying Case
The Sienna Tripod comes with a shoulder strap and carrying case made of high quality, durable materials to provide maximum protection of your tripod and ball-head.
Plein Air Tripod Features:
Adjustable Leg Angles 
For extra flexibility, the Sienna tripod legs can be independently locked into place at three different angles. This enables painting in tight spaces, on irregular surface areas, or at ground level. Please note that the supply box can only be used on the tripod when the front legs are in the standard position.
Quick Lock Legs with Anti-Rotation Leg System 
You can easily set the Tripod height with a flip of the quick lock leg levers. Combined with anti-rotation legs, this enables fast and easy set-up.
Center Column Hook 
A hook, located on the bottom of the center column, allows you to hang a bag or backpack in the tripod's center of gravity for increased stability. It also keeps your gear out of the dirt and mud.
Center Extension column
Fine tune the working height of your pochade box with the easy to use center extension column. A wing nut-style center column-locking knob allows for secure, intuitive-action height adjustments on the fly
Head Mounting Setscrews 
Setscrews provide an extra level of stability and security when attaching the ball-head to the tripod's top-plate.
Spirit Level and Compass 
On flat or uneven ground, a built-in spirit level helps keep your tripod squared-off and level to your subject, and a built-in compass provides orientation coordinates.
Specifications: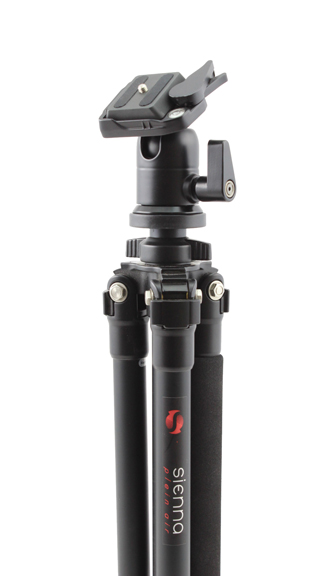 Tripod with Ball head:
Maximum Load 13.2 lbs (6 kg)
Max Height (24° Leg Angle) w/Column Extended 59.4″ in (1510 mm)
Max Height (24° Leg Angle) w/Column Retracted 50.8″ in (1290 mm)
Folded Length 22″ in (559 mm)
Number of Leg Sections 4 Leg Lock Type Quick-Lock
Independent Leg Spread Yes, with 3 stops
Center Column Grooved-Rapid
Head Mount Thread Size 1/4″-20 & 3/8″-16
Weight 3.9 lbs (1.7 kg)
Maximum Load 13.2 lbs (6 kg)
Head Mount Thread Size 1/4″-20
Quick Release (QR) Plate Snap-in
QR Plate – Top Mount Surface 60mm L x 49mm W