Description
Callia All Media Starter Brush Set #100
The Willow Wolfe Callia All Media Starter Brush Set includes a selection of high quality brushes which have excellent spring, hold lots of colour and snap back into shape with ease. Callia brushes are created with multi-diameter Cultured Synthetics. The filaments are etched to create microscopic pockets for color to absorb into. This creates a controlled release of color, firm edge and incredible shape retention. This mixed media starter brush set includes a Liner size 0, Round size 5, Angle 5/8″ and a Flat 10. These short handled brushes are suitable for all media including acrylic, oil, watercolour, gouache and more.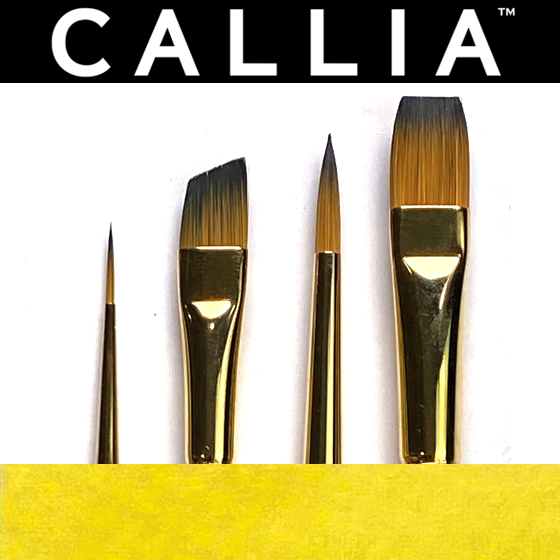 Read more
A perfectly balanced handle with six layers of filler, primer, paint and lacquer prevents water from penetrating to the wood. This ensures that handles resist cracking and increases the longevity of your brushes. Callia uses solid brass ferrules which are crimped and meticulously inspected for shape and a scratch-free finish. Callia offers a fur-free promise, quality materials and tremendous care when designing and manufacturing their brushes!

Check out Willow's blog "What Does That Brush Do?" for helpful tips on how to use your paint brushes, as well as what different brush shapes can do.

About Willow Wolfe:

Willow Wolfe is widely recognized for challenging and modernizing today's world of art supplies as well as education. She is an award-winning art teacher and the author of a library of learn to paint books and articles. Her approachable style and step-by-step painting methods have taken her to events, seminars and engagements across the globe.