Golden Artist Colors new line of acrylic paints – SoFLAT
By Samantha Williams-Chapelsky
About three years ago, Golden Artist Colors, an acrylic paint company out of New York State, embarked on a journey of finding a super matte, ultra-flat acrylic paint. This journey has led to the 2021 release of SoFLAT – a low viscosity, highly pigmented, flat acrylic with some unique characteristics.
For starters, the viscosity of this paint is similar to that of nail polish – which is quite unique in the acrylic world. Available in 2 oz, 4 oz, and 16 oz wide mouth jars, this paint boasts some unique pigments and colors pulled from Williamsburg Oil paints (another brand under the Golden umbrella) as well as some colors traditional to Goldens other acrylic line ups. What makes the 40 available colors unique is the opacity level. All the paints were created to have either a semi opaque to opaque finish (meaning that light cannot pass through the paint) by either adding more pigment and matting agents, or even in some cases adding in titanium white to the color itself. This is noted on all jars as pigment PW6. Even the fluorescents which as a pigment are a dye themselves and are traditionally very transparent hit boarder line semi opaque.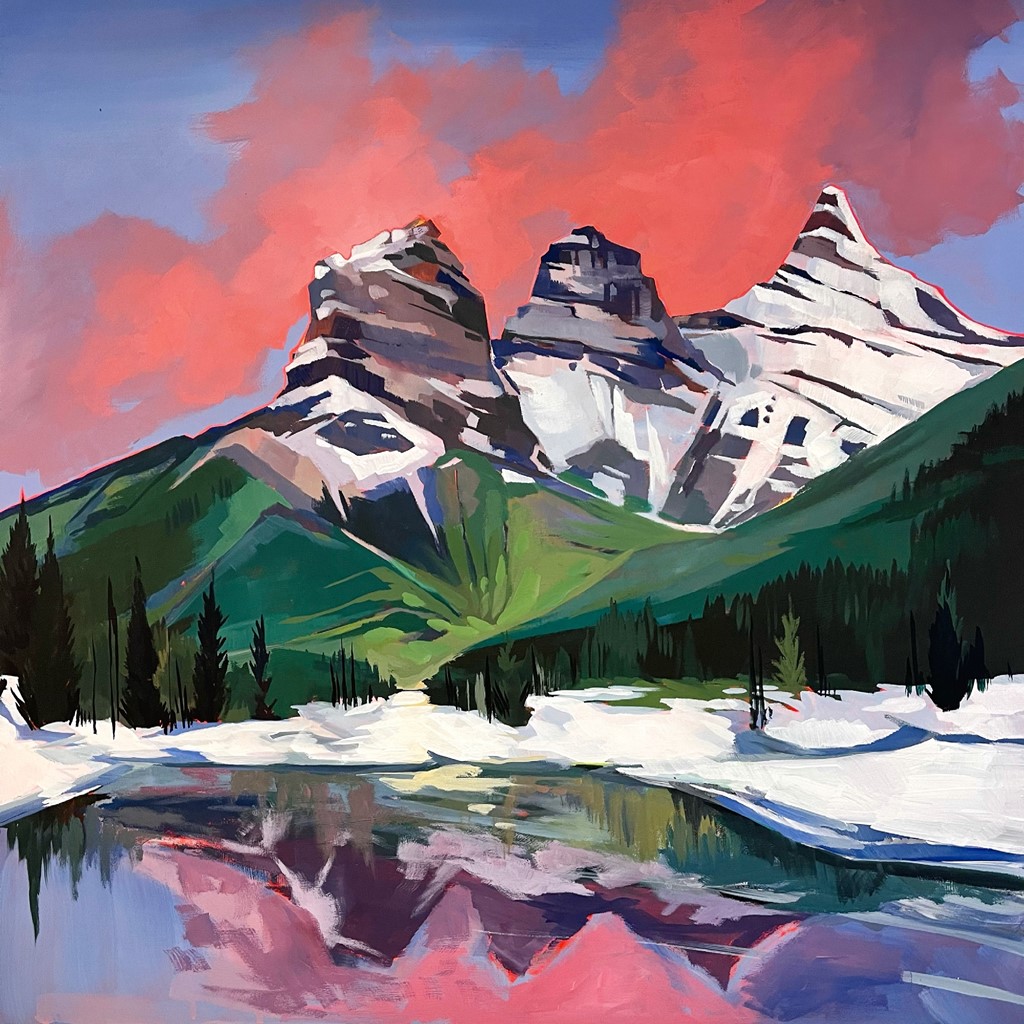 While working with these paints, they have a unique leveling quality and are known as thixotropic – which means that as you work with the paint itself by stirring, brushing, etc. the paint will become smoother and easier to work with. It is recommended to stir the containers before use, as some components can separate slightly on the shelf.
Unlike acrylic gouache, SoFLAT is not water sensitive. Once the film of the paint is dry, it is a solid acrylic film – giving these paints a bit more versatility for alternative support uses like birch panels, canvas, paper etc. It is recommended to not add in more than 15% water to these paints as this will create some water sensitivity.
As an artist, I am always on the hunt for something new, and what really caught my eye about SoFLAT was the opacity and the pop palette. I have been working in a series of mountain landscape paintings and have really enjoyed incorporating some of the SoFLAT palette and paints into my series alongside some of my more traditional Heavy body and Fluid acrylics.
In terms of keeping the super matte finish, it is recommended to use mediums and pastes that complement this sheen. Products such as:
Also, due to the nature of the paint itself, SoFLAT can also be a ground to either paint or work in mixed media on as it can be used like a gesso.
Lastly – that matte, matte finish – this is quite a unique finish. There is a rating system in place for the sheen of an acrylic paint called the Glossmeter. Acrylics are measured in gloss units (or GU). Typical Fluid acrylics measure between 8 – 99 GU, Heavy Body acrylics measure 13 – 100 GU. SoFLAT measures between 0.4 – 2.8 GU. WOW. These are about as flat a finish as you can get in an acrylic. This means that if they are mixed with another acrylic that is not as matte, that sheen will be affected. Also, with varnishing options limited for that level of matte finish, again it is worth trialling your finishing products before putting them on your final masterpiece. Also due to this matte finish, these paints are not being recommended for outdoor use at this time.
Give them a whirl, add a color or two into your repertoire or buy one of the available sets and try your hand at a super pop art style of painting!
---
ABOUT ARTIST SAMANTHA WILLIAMS-CHAPELSKY
Born paintbrush in-hand, at the ripe age of five Samantha won an Emily Carr young artist award for her work, 'The House'. Since then – through her extensive education, experience and years spent studying Italian art in Tuscany – she has emerged as an internationally exhibited painter and sculptor. Currently a visual art instructor, Samantha teaches painting and sculpting methods in all mediums. From India to Italy, Scotland to New York, numerous galleries and more than 55 exhibitions have featured her vibrant collections
Learn more about Samantha at samanthawilliamschapelsky.com
and Follow her on Instagram