Description
Pack with 3 Assorted Nibs:
The very flexible Drawing nib is ideal for Old English small letters. The Steno nib, with its blue color and short hand nib, is perfect for Old English. The Bandzug 2,5mm with an ink reservoir on top gives incomparable rounded and Gothic letters.
Pack with 3 Calligraphy Nibs (Orange):
With a square nib and reservoir on top, the Bandzug is ideal for rounded and Gothic letters. This set containing 1,5, 2,5, 4mm Bandzug nibs is perfect for a variety of styles with fine or thicker lines.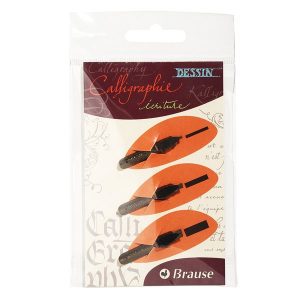 Pack with 3 Drawing Nibs (Blue):
These 3 nibs, from the most flexible to the hardest, are ideal for all types of drawings or writing Old English small letters
Pack with 3 Writing Nibs (Green):
The Ecoliere, the Steno and the Cito Fein are traditional nibs suited for Old English and script writing.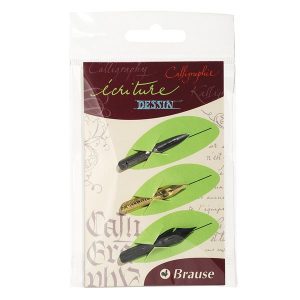 Fantasie Calligraphie Set (Pink):
Includes a 10mm Plakat nib, Music nib and Index nib. These 3 nibs will help you with original and fantasy styles.
Ecriture Calligraphie Set of Left-Handers (Lavender):
This set made specifically for Left-handed writers includes one nib for drawing and two for handwriting. Includes one each Left-handed Bandzug nib size 2mm and 3mm, and one Hatat nib.
Additional information
| | |
| --- | --- |
| Brause Nibs | Assorted Set, Calligraphy – Left Handed Set, Calligraphy Bandzug Set, Drawing Set, Fantasie Calligraphy Set, Writing Set |