Description
Giant Sequoia Fountain Pen – Medium nib
Giant sequoias are the world's grandest trees and largest living things by volume. The Monteverde Giant Sequoia may not be the world's largest pen, but it will be appreciated by those who prefer a substantial writing instrument. The solid resin barrel's striped pattern in earthy tones reminds us of the massive trunks that greet visitors of Sequoia National Park. But this pen doesn't want to sit still! Ergonomically designed, Sequoia feels poised and balanced in the hand and begs to be used daily.
These fountain pen fills via standard cartridge/ converter (included) and the large Stainless steel nib is available F, M, B and 1.1mm stub point sizes. Replacement nibs are available here. The matching twist action ballpoint tapers elegantly to fit perfectly in the hand and fills with standard parker style refills. Polished chrome accents are durable and scratch resistant and decidedly minimalist on this design, letting the beauty of resin shine through.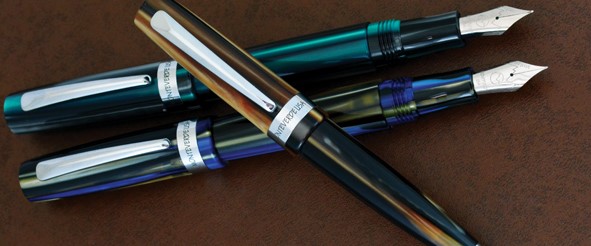 About Monteverde USA:
Since 1999, Monteverde USA has made it their goal to create fine writing instruments teeming with elegance, innovation and color. With its rich history and extensive range of products, Monteverde has the ability to understand the fine writing market. They have gained worldwide recognition, designing fine pens as unique as one's fingerprint.
Each Monteverde pen is crafted with its users in mind to ensure unparalleled quality as well as affordable luxury. From the comfort of the grip, to the ease by which a clip enters a pocket. How the state-of-the-art refills effortlessly glide across paper, or the way each pens balance enhances writing comfort. And especially in the diversity and richness of each collection. Using only the finest hand-crafted European grade resins and carbon fibers, with state-of-the-art ink technology. Monteverde offers a writing experience that truly sets itself apart.
Monteverde provides a large variety of inks in ballpoint as well as rollerball refills, fountain pen inks and cartridges to fit most major fine pen brands. You are no longer limited to writing in just black or blue, with over 50 stunning inks to choose from. Monteverde inks are crafted with ITF technology, aiding in pen maintenance as well as improving ink flow. Originators of The Soft-Roll ink technology, the latest in ballpoint and rollerball refills which houses a low viscosity ink for the smoothest writing experience.
In a world where hand-written communications have become the exception, we invite you to renew your love for writing. Experience the magical charm of a Monteverde USA writing instrument.