Description
POSCA Paint Marker – Metallic Blue
Non-toxic, water based POSCA paint markers can be used on almost any surface so you can express your creativity freely. The alcohol- and solvent- free opaque acrylic paint covers well, is blend-able, dries quickly and can be overlaid when dry. There is no need for a base coat. These versatile paint markers can be used on paper, glass, cardboard, wood, porcelain, metal, textiles, ceramics, plastic and much more without priming. However, the markers will produce different results on certain surfaces with a primer. They can also be used like watercolor when mixed with water and a brush, and are ideal for all types of art, craft, graffiti, décor and more.
Available in 55 colors and eight tip sizes ranging from 0.7 mm to 15 mm. User Guide
Sizes:
The PC-1MR extra-fine tip marker (0.7 mm) has the same qualities as a paint marker in the form of a fine tip pen. It's designed for professionals and beginners requiring an ultra-fine and consistent line in a wide selection of colors.
The PC-5M medium bullet tip marker is the multi-purpose marker of the POSCA range. It produces neat and precise lines, and is ideal for coloring. An all-around favorite of both professionals and beginners. Medium, 1.8mm-2.5mm bullet-shaped nib.
The PC-8K broad chisel tip marker draws neat curves and covers large surfaces. Ideal for urban art, sign making, interior design, board customization and more. Broad, 8mm chisel-shaped nib.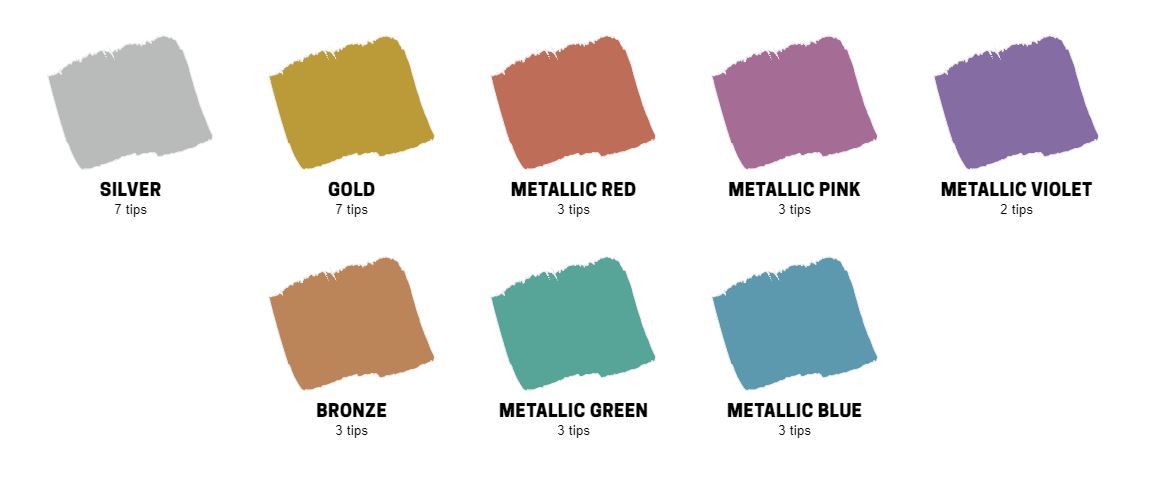 Find all our POSCA Paint Markers here.
*This color swatch is a representation of what the marker color will look like once dry, but does not show the metallic nature of this color. Colors may appear differently by screen.