Description
Loop Spray Can Black
Loop Colors Black 104 Spray Can is available in a 400ml Spray Can or 600ml Maxi Can. This is a high coverage, black spray paint can with a satin finish. Loop Black is also available in a Matt or Glossy finish.
LOOP Spray Paint is an acrylic based spray paint made in Italy. It has a high solid content and can produce total coverage on almost any kind of surface! Loop comes in a satin finish in a 400 ml can. Some colours are also available as 600ml Maxi Cans.
Colour reference is extremely important. For this reason, a system was conceived that could faithfully reproduce the colour of the product contained inside the can. The top of the can has the paint applied directly to it ensuring utmost colour accuracy.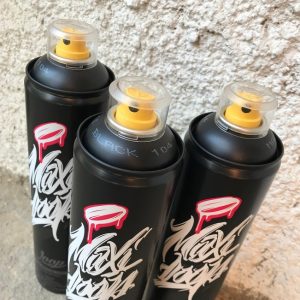 Features:
Satin Finish
High Coverage
Acrylic Based
Available in 400 ml and 600 ml maxi cans
All Loop Cans come with a standard skinny Loop Spray cap (spray width approx. 2.5 cm)
Contact us to place a special order.
*Colors may display differently on different screens.*