Description
Golden Fluid Iridescent Bright Gold fine is the closest match to what people think of as 14k gold. However, this is the one Iridescent we caution against outdoor use without UV protection, due to the Nickel/Azo light sensitivity.
Used alone or with other colors, gels and mediums, GOLDEN Iridescent Acrylic Colors develop non-fading, non-tarnishing metallic finishes. Combine Golden Iridescent colors with GOLDEN Gels (Gloss) and Fluid Acrylic Colors to create an endless variety of colors and effects.
Sizes:
Features:
Squeeze bottle allows for easy, measured application
Flip lid
Pourable, low viscosity formula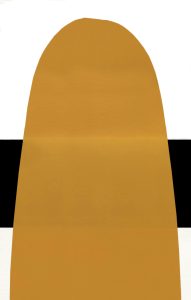 Technical Details:
Pigment Classification: Mixture
Color Index Name: N/A / PR101 / PY150
Color Index Number: N/A / 77491 / 12764
Chemical Description: Titanium Dioxide and Iron Oxide Coated Mica Particles / Synthetic Iron Oxide / Nickel Complex Azo
Opacity/Transparency: Semi-Transparent
Lightfastness Rating: 1
Permanency: Excellent
Munsell Notation Listing: Hue N/ Value N/ Chroma N/A
Gloss Average: 42.8
Viscosity Range: 750-1000 CPS
CIE L*a*b* Values: L*N/A a*N/A b*N/A
Tint Strength: N/A
About Golden Fluid Acrylics:
Equal the intensity of GOLDEN Heavy Body Acrylics but with an even, flowing characteristic useful for dry brush application, fine details, pouring, spraying (particularly when mixed with GOLDEN Airbrush Medium), staining techniques and many others.
Fluids are created by loading an acrylic polymer binder with concentrated levels of quality pigments for a wide selection of permanent and lightfast colors. No fillers or extenders are added to achieve the desired consistency, nor is the fluid quality achieved with additional water. GOLDEN Fluid Acrylics have the same pigment load as the Heavy Body Acrylics, but in a viscosity similar to heavy cream. Fluids allow for smooth flowing applications while retaining color intensity, tinting strength, film integrity, and adhesion.
Fluids blend easily with all acrylic colors, and readily tint gels, mediums, gessoes and grounds. Fluid Acrylics are extremely versatile, and ideal for fine brushwork, glazing, staining, water media techniques and many more. Mix Fluid Acrylics with Airbrush Medium for airbrush application of artwork including textiles.